What do you get when four young guys sell their internet start-up for £16m each? An international format loaded with potential.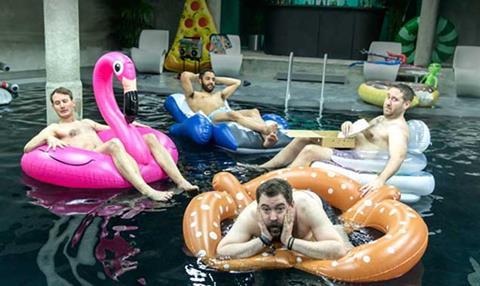 Distributor Keshet International
Producers Hillbilly Television; Keshet UK
Length 8 x 45 minutes
Broadcaster C4 (UK); AMC (US)
Channel 4 series Loaded is the first international adaptation of Keshet's 2007 format Mesudarim – billed as Entourage meets Silicon Valley – and 10 years later, it is still resonating.
"Our show aired at the height of the tech bubble in Israel, when start-ups burst on the international scene," says Keshet International president of distribution Keren Shahar.
"The fact that we're seeing this remake several years later is the biggest testament to the relevance of this subject – of what happens to very young people when they suddenly become very rich."
However, adapting an Israeli format for C4 and US broadcaster AMC – which boarded the series in October – required a substantial overhaul, for which Keshet UK teamed up with The Level indie Hillbilly Films and Fresh Meat writer Jon Brown.
Hillbilly co-founder Kate Norrish says: "When we first talked to [Keshet UK] about it, we said one of the first things we'd have to do was make it English. We couldn't make it wholesale and put it on here – it just wouldn't work.
"There's a very different attitude towards money and success in the UK. There's a particular attitude about not quite celebrating it and being anxious and nervous about it – that was our line on it."
Norrish, who describes Loaded as "Downton Abbey with nerds" – "because it's people who have a lot of money but don't know how to behave with it" – says a major deviation from the Israeli show is the inclusion of female characters who appear throughout the eight-part series.
"We didn't want it to be 'laddy'. It somehow didn't feel right for the times we're living in. It's not what any of us wanted and it's not the way Jon writes."
Integrating a new character also presented an opportunity to cater to an American audience on AMC, and The West Wing's Mary McCormack joined the cast playing the young millionaires' US boss.
"It felt like a natural fit that we could bring in an American character without it being too crowbarred into the story," says Norrish.
Keshet UK creative director of scripted Howard Burch adds: "It didn't feel like we were deliberately squeezing in an American angle just to get that [co-production] money."
The Walking Dead broadcaster AMC has to date linked up with British broadcast partners for dramas such as The Night Manager (BBC) and Humans (Channel 4), but Loaded marks AMC's first foray into comedy in the UK.
Norrish says: "There hasn't really been a precedent in terms of the [comedic] tone yet for an American audience, so it will be interesting to see how it lands.
An AMC executive came to all the read-throughs and was very involved in developing the script, but it has never felt like there has been a tug of war."
Elsewhere, Televisa is currently adapting Mesudarim for Mexican audiences, and the format is also in development in China.
Shahar says: "We're crossing all kinds of continents. It speaks to the broad appeal of the show. I am fairly confident we will see more adaptations coming, and the diversity of the territories remaking Loaded is a good indication of how the finished UK tape will travel."
While Loaded – which is expected to air on C4 and AMC in May – is Keshet International's headliner at Mip TV, other priorities include scripted Scandi noir parody Fallet and unscripted formats Lovers Or Liars, a celebrity panel gameshow, and Flight Club, which gives teams the chance to win a dream holiday.