Last chance to voice views on the importance of new and original content – deadline Monday 27 September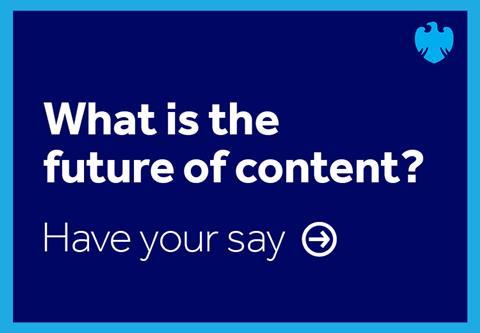 Barclays has partnered with Broadcast to launch a survey exploring the future of content, and it's your last chance to enter and win a share of £100 in vouchers.
The survey will form the basis of a major report on the content sector, exploring the value of new and original programming at a time of continued disruption by new technologies. Two respondents picked at random will each receive a £50 voucher for a vendor of their choice (click here for terms and conditions).
To enter, click here: https://www.surveymonkey.co.uk/r/GZNYX5L
The results are set to feature in Barclays' upcoming thought leadership report, which will be distributed at the end of 2021. The deadline for submissions is Monday 27 September 2021.
Entrants will also be given the opportunity to be interviewed for the report at a later date, with their views revealing how rapid change is shaping the future of content.
The survey, which takes less than 10 minutes to complete, will also reveal how this change is impacting businesses; how changes in viewers behaviour has influenced content strategy; and the impact of SVoDs and other online platforms such as YouTube.
For further information on the study or upcoming report, please contact Broadcast commercial director Talia Levine and/or Barclays industry marketing manager Shruti Lal.
For more on the future of content, click here and explore our Barclays microsite.