The Girlfriend Experience is a dark, voyeuristic drama based on fi lm director Steven Soderbergh's controversial 2009 movie starring porn star Sasha Grey.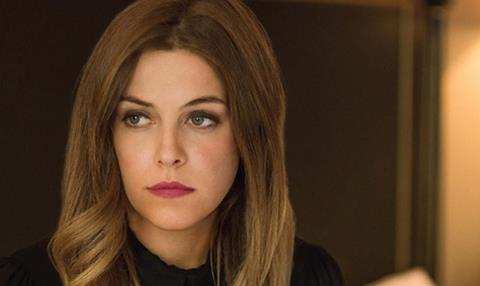 Distributor Starz Worldwide Distribution
Producer Transactional Pictures
Length 13 x 30 minutes
Country US
The TV adaptation, which explores the relationships between exclusive courtesans and their clients, features Elvis Presley's granddaughter Riley Keough, who starred in Mad Max: Fury Road and Soderbergh's Magic Mike.
She plays Christine Reade, a law student introduced to the world of high-class prostitution. The anthology series is executive produced by Soderbergh.
"Steven came in to pitch us the idea to take part of the movie and continue the exploration of different characters," says Starz managing director Carmi Zlotnik. "He wanted to write, produce and shoot it like an indie movie, and explore the ideas of intimacy and alienation. We felt it would be a great addition to our programming slate."
The drama is unusual as it is shot as 13 half-hour episodes. "The movie wasn't the best franchise to explore these ideas because they only had an hour-and-a-half to do so. Treating it like a long movie, with 13 half-hour episodes, was way better," says Zlotnik. "Our first rule at Starz is not to have any rules, so we needed to back Steven's vision and approach, because when you work with someone like him, you want to be unconventional."
Zlotnik says the network is looking to reach a more cosmopolitan audience with The Girlfriend Experience. "This has some demographic appeal with people who are a little more arthouse. This is an interesting subscriber to pull into the Starz service. It's a bit younger than the traditional pay-TV audience and may be the pay-TV audience of the future."
The broadcaster has had success in recent years appealing to demographics not usually served by premium pay-TV services.
Its 50 Cent-fronted mobster drama Power became its highestrated original series in its second run, attracting a large African American audience, while Sony-produced Outlander and BBC co-pro The White Queen helped it reach female audiences.
Niche programming
"We're continually looking at what everyone else is doing and trying to work out where there are exploitable niches – where there's an audience that is being underserved we can fi nd something of value for that audience," says the former HBO executive.
Starz is home to a number of high-profi le British dramas. The network has boarded series including New Pictures-produced BBC1 crime thriller The Missing; Playground Entertainment's Anthony Hopkins and Ian McKellen- fronted drama The Dresser; and Endor Productions' Stephen Poliakoff-penned WWII drama for BBC2, Close To The Enemy.
"I think of these shows as intelligent television – that's what I've always appreciated about the British. We're happy to pick up these shows and tap into that," says Zlotnik.
Starz is also moving forward with its adaptation of The White Princess, the follow-up to The White Queen, despite the BBC having no further involvement. "We'll make a determination once the scripts come in," he says.
The network will likely board more British series, alongside US offerings such as Neil Gaiman's
American Gods, as it seeks to boost the number of original episodes it airs from 80 to around 100 a year. "We like to come on board at script stage but our philosophy is that we don't turn it into a tug of war. We buy into projects that we feel are conceptually right for us and don't need a lot of manipulation to make them work for our audience," says Zlotnik.
The next frontier is nonscripted.
Starz moved into the genre last year with The Chair, which involved amateur fi lmmakers competing in a Project Greenlight-style competition series.
Zlotnik says it is now looking for more non-scripted formats. "We've always talked about other genres and The Chair is our first foray into that. We're now looking at other variations. It's an interesting way to expand the brand and work with some different creative material," he says.