All3Media was again the biggest consolidator in UK revenue terms, with its £520m turnover comfortably outstripping the combined figure for its newly merged rival
There was only one story in UK production consolidation last year: Banijay Group's £2bn deal to acquire Endemol Shine Group (ESG) at the second attempt.
The landscape-changing agreement is expected to close in the summer with regulatory approval from the European Commission, according to Banijay chief operating officer Peter Langenberg.
However, even if ESG's £364.9m and Banijay's £66m UK revenues were grouped together, Fleabag and Midsomer Murders owner All3Media would remain the biggest consolidator in terms of British turnover. It posted £520.4m in 2019, up 6%.
Nine of the top 10 indie labels this year are owned by larger groups, while a total of 69 out of 143 companies are more than 50% owned by a consolidator. In total, Broadcast tallied 19 consolidator groups – the same number as last year.
All3 chief executive Jane Turton says that focusing on building its scripted business has been a key strategy since Liberty Global and Discovery jointly acquired the super-indie in 2015.
"We acquired some companies and put a lot of time and effort into the existing ones such as Bentley Productions, Company Pictures and Lime Pictures," she adds.
All3's strong performers include Lime – the top regional indie with turnover of £83.2m – which produces shows such as youth-skewed drama Free Rein; New Pictures, which made ITV's White House Farm and Sky 1's Cobra; and factual-entertainment formats such as Studio Lambert's The Circle and Race Across The World.
All3 also secured revenues from food shows from Optomen, including Channel 4's Crazy Delicious and Snackmasters.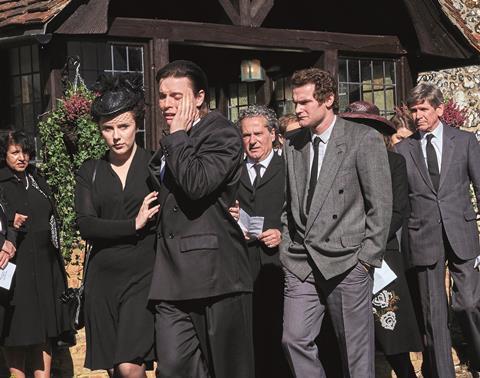 "Although it's a good time to be a producer – a golden age, people argue – it's still very competitive," says Turton. "You're not sitting there in glorious isolation as the only producer in town – quite the opposite – but competition is actually a good thing for buyers and consumers."
Turton believes "scale is of value" and is prepared to "look at corporate development opportunities of all shapes and sizes in the UK and more globally". All3 sees opportunity in format distribution and factual entertainment, and may look to push more into entertainment, she adds.
Behind All3 in this year's survey is ESG, which ended four consecutive years of revenue growth with a fall in turnover of 24% in 2019. This was due mostly to the double blow of losing Big Brother – producer Initial's turnover dropped 87.5% to £5.6m – and Black Mirror, with producer House of Tomorrow shutting after its founders and showrunners Charlie Brooker and Annabel Jones exited for Netflix.
Endemol Shine UK chief executive Richard Johnston laments the loss of Black Mirror and its creator Brooker but said the group is already working on "setting up more dramas of the same scale".
He points to growth at all of the group's unscripted production outfits, bar Initial, and says scripted labels Tiger Aspect Productions and Kudos have dropped year on year but are both "set to grow – particularly in 2021" – thanks to the cyclical nature of drama production.
Value of returning series
Elsewhere, Johnston highlights returning series such as Pointless, which helped boost Remarkable Television's revenues by 29%, but points out "margins are as tough as they've ever been".
He calls on broadcasters to "play fair" by acknowledging where ancillary revenues can be found and not asking producers to search for deficit funding opportunities "where, frankly, they don't exist".
Johnston says ESG staff are "waiting with bated breath" to discover what Banijay is planning following the completion of the merger. However, he is willing to predict "Big Brother will come back at some point, no doubt", after it was axed by Channel 5.
Banijay's Langenberg agrees: "I already see that Big Brother is coming up again in other countries."
Banijay's reality formats include Temptation Island and Shipwrecked, and Langenberg praises the longevity of the genre, noting: "Reality shows are really interesting from an economic perspective because the amount of content you can get out of them is enormous."
Top owners/consolidators

| Rank | Company | UK production turnover 2019 (£m) | UK turnover 2018 (£m) | % change | Global production turnover (£m) | Amount from UK (%) | UK subsidiaries |
| --- | --- | --- | --- | --- | --- | --- | --- |
| 1 | All3Media (Liberty/Discovery) | 520.40 | 486.30 | 6.00 | – | – | Aurora Worldwide Media; Bentley Productions; Betty; Bullion Productions; Caravan; Company Pictures; Lime Pictures; Lion Television; Little Dot Studios; Maverick TV; Neal Street Productions; New Pictures; North One Television; Objective Media Group; Optomen; Raw; Seven Stories; Studio Lambert; Two Brothers Pictures; Unstoppable Film & TV |
| 2 | Endemol Shine Group (Disney/Apollo) | 364.90 | 480.40 | -24.00 | – | – | Artist Studios; Bandit Television; Douglas Road Productions; Dragonfly Film & TV; DSP; Initial; Kudos; Remarkable Television; Shine TV; Shiny Button Productions; Sidney Street; Tiger Aspect; Tigress; Workerbee; Zeppotron |
| 3 | Fremantle (RTL) | 185.70 | 163.30 | 13.30 | 185.70 | 100.00 | Boundless; Castlefield; Euston Films; Hare and Tortoise; Shotglass Media; Talkback; Thames |
| 4 | Tinopolis | 120.00 | 105.00 | 14.20 | 269.00 | 45.00 | Daybreak Pictures; Fiction Factory; Firecracker; Mentorn Media; Pioneer Productions; Sunset + Vince; Thunderclap Media; Tinopolis Wales |
| 5 | Endeavor | 112.30 | 114.60 | -2.00 | 740.00 | 15.20 | IMG Media |
| 6 | Avalon | 79.90 | 69.90 | 14.30 | 171.00 | 46.70 | Avalon TV; Topical Television |
| 7 | Sky Studios (Comcast) | 103.00 | 89.00 | 15.70 | 168.00 | 61.30 | Blast! Films; Love Productions; Sugar Films; True North Productions |
| 8 | Banijay | 66.00 | 64.50 | 2.30 | – | | BlackLight; Fearless Minds; IWC Media; Neon Ink; The Comedy Unit; The Natural Studios; RDF Media (incl Fizz); Wonder; Yellow Bird UK |
| 9 | Argonon | 41.70 | 28.00 | 48.90 | 64.36 | 65.00 | Bandicoot Scotland; Barefaced TV; BritSpark Films; Leopard Pictures; Like A Shot Entertainment; Remedy Productions; Transparent Television; Windfall Films |
| 10 | Red Arrow Studios (ProSiebenSat.1) | 25.63 | 15.40 | 66.40 | 33.01 | 77.60 | CPL Productions; Cove Pictures; Endor Productions; Nerd |
| 11 | Sony | 23.30 | 9.85 | 136.50 | 218.74 | 10.70 | Left Bank Pictures; Stellify Media; Electric Ray |
| 12 | Zinc Media | 21.35 | 17.80 | 19.90 | 24.63 | 93.40 | Blakeway Productions; Brook Lapping; Films of Record; Reef Television; Tern |
| 13 | Studiocanal (Canal+ Group) | 14.40 | 12.50 | 15.20 | 29.00 | 49.70 | Red Production Company |
| 14 | Vice Media | 8.00 | 49.00 | 49.00 | 60.40 | 13.20 | Pulse Film |
| 15 | Izen Group | 5.40 | – | | 5.40 | 100.00 | Chalkboard TV |
| 16 | eOne | 4.90 | – | | 5.00 | 98.00 | Daisybeck Studios; Whizzkid Entertainment |
| 17 | ZDF Enterprises (ZDF) | 4.60 | 13.00 | -64.40 | 12.20 | 37.70 | Off the Fence Productions |
| 18 | Original Talent Group | 0.25 | 9.90 | -97.50 | 1.00 | 25.00 | Cuba Pictures |
RDF Media is Banijay's biggest British indie, generating around half (£33m) of its parent group's UK revenues with shows such as Tipping Point, Eat Well For Less? and The Crystal Maze, which is being remade as a co-production in the US for Nickelodeon.
"That's a fantastic revival for the show," says Langenberg. "It's the first time we've done the show with kids and it really works."
He says RDF performed well in 2019 and is in discussions with C4 over anniversary specials for Location, Location, Location as the show approaches 20 years on the channel.
Langenberg acknowledges the wider market will change after the ESG acquisition completes. He says many other companies are currently "afraid to do big acquisitions" due to the costs and risks involved, while noting that the sector is consolidated considerably already, with many firms belonging to bigger groups.
"We're moving from a quiet period to quite a busy one and I expect that to go on for a number of years"
Hasham Khan, ACF Investment Bank
Apart from Plimsoll selling a significant minority stake to a private-equity branch of Lloyds Development Capital and Banijay buying into Bear Grylls' new indie, there was not much M&A activity in the indie sector in 2019. But Hasham Khan, managing director at ACF Investment Bank, says things are changing: "We're moving from a quiet period to quite a busy one and I expect that to go on for a number of years."
Among the main reasons for this is growth in the market due to more streaming platforms with bigger budgets entering the fray, he says. "Because of that, activity is now ramping up."
Khan says the global nature of the marketplace is shifting towards "cross-border M&A", with UK and North American firms acquiring in Europe and larger consolidators in continental Europe looking at the UK indie production sector.
Several private equity firms have identified growth in the production and IP markets and decided on investment, Khan adds: "There were several private-equity businesses interested in Plimsoll."
One of the biggest rises in turnover this year among the consolidators was for Argonon, which grew by 48.9%.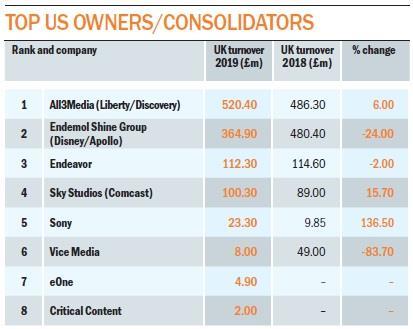 Founder James Burstall says: "We've worked really hard to become a truly diversified group over nearly 10 years and are now truly across all the genres in the way we'd always hoped to be."
He adds that the UK remains a key territory for consolidators due to its rights regulations. "Our IP is so strong, and that's because of our rich diversity of history and culture," he says. "Thank God for John McVay and Pact, the rottweilers on our side, who have fought for years to protect these rights."
Argonon, which is 100% independent, has grown by giving executives stakes or options in their businesses and Burstall says he has "worked really hard to create a diverse, nurturing environment".
He wants to expand by supercharging existing labels, creating joint ventures – as is the case with The Masked Singer producer Bandicoot – and through acquisition.
"I want Argonon to be among the best in the world – a place where world-class, award-winning talent choose to come and do their great work," he says. "To my knowledge, we are the only multi-genre group that is truly independent, and that gives us the freedom to pursue our dreams and have that cutting edge."
Sky Studios launch
Another key consolidator is Sky Studios, the production and commissioning arm of the pay-TV operator, which launched in June.
It encompasses the stakes held in production firms such as The Great British Bake Off producer Love Productions, which earned £60m in revenues last year. Not all of its companies reported their turnover but overall turnover from Sky Studios' UK production companies was £103m in 2019.
It is tricky to compare year on year, as different Sky companies contributed to the Indie Survey in 2018, but Sky Studios chief commercial officer Jane Millichip says: "For the year 2019, the Sky UK portfolio performed well despite challenging commissioning conditions in the UK factual sector. Love, Blast! Films and True North all managed their returning factual brands very well, which forms the bedrock of their strong performance."
She acknowledges that the indie community was worried when Sky Studios was announced – with some concerned commissions would go in-house – but tries to assuage these fears. "This does not mean we're turning the tap off in the indie sector," she says. "Part of Sky Studios' ambition is to increase our production across the board, including our commissioning of indies."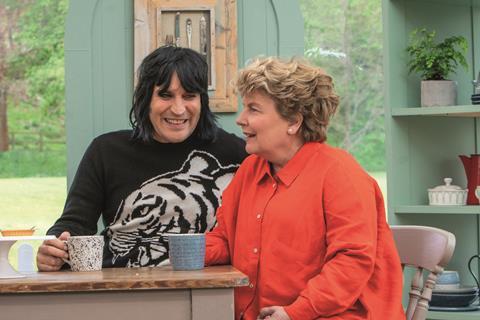 Sky UK content managing director Zai Bennett says it was a "stellar year", pointing to Sister's Chernobyl as Sky's "show of the year". Explaining the company's strategy, he says: "Nearly all of our dramas have got US homes, which creates a mixed economy, but our starting point is great ideas."
Elsewhere, the survey shows sports specialist IMG, part of the US' Endeavor, made £112.3m in the UK – flat on 2019. However, after significantly retooling its international business, IMG now includes a large amount of what it describes as 'media rights' revenue – hence an inflated global revenue figure of £740m.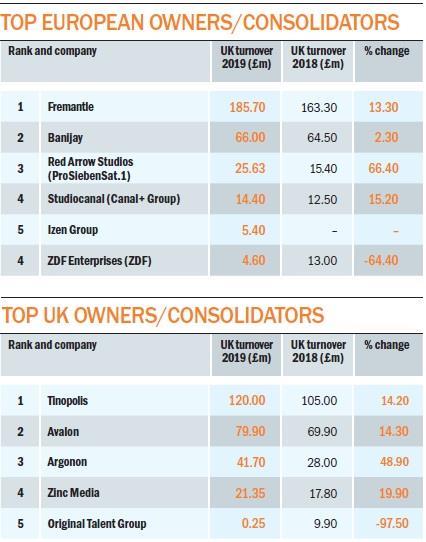 ITV Studios, whose indies do not enter the survey, posted full-year revenues of £725m, up 4% from £695m.
Fremantle, which has installed Simon Andreae as UK chief executive, grew its UK revenues by 13.3% to post £185.3m in UK turnover, with unscripted labels Thames and Boundless posting growth and drama producer Euston Films, which made Dublin Murders for BBC1, up significantly from £12m in 2018 to £29m. Talkback was flat at £24m.
Sony posted £23.5m in UK revenue, though its British indies that entered the survey made £218.7m overall, largely due to The Crown producer Left Bank Pictures' £203.7m.
Tinopolis, owner of indies such as Firecracker and Mentorn Media, posted UK revenues of £120m, up 14.2%, as its international business also grew significantly. It remains the largest UK-owned group, ahead of Avalon, which posted £79.9m, Argonon (£41.7m) and Zinc Media (£21.4m).


The Broadcast Indie Survey is sponsored by Barclays