"Unlike anything else on TV right now. Fresh, funny and real"
Avalon Television, Merman Films and Birdbath Productions for Channel 4
Scooping its second Best Comedy Programme gong in three years, Sharon Horgan and Rob Delaney's six-part comedy scored a hat-trick of nominations for its third series, which was referred to by one judge as "unlike anything else on TV right now".
The "fresh, funny and real" series, co-produced with Amazon, once again followed the exploits of Sharon Morris (Horgan) and Rob Norris (Delaney) as work and family continued to put a strain on their relationship, culminating in some tough scenes of Rob's relapse into alcoholism.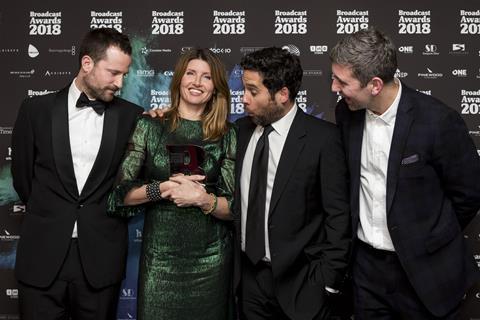 Featuring cameos from the likes of Domhnall Gleeson, Jordan Stephens and Douglas Hodge, the series was "brilliantly observed comedy", said one judge, hailing the "real chemistry of the central characters".
Sticking with editor Steve Ackroyd, the series was shot in a range of real locations. Horgan and Delaney opted to work with new crew, design and costume, which they said ensured new ideas were brought to the process.
The series debuted to a consolidated audience of 1.5 million (7.5%) in a Tuesday 10pm slot in February, and went on to secure a 1.2 million (6.6%) consolidated average.
A fourth series has already been commissioned and Merman and Horgan have gone on to secure an exclusive deal with Amazon for future projects. The show has now been sold to more than 120 countries worldwide, including Lifetime in the US.
SHORTLISTED
CUNK ON CHRISTMAS
House of Tomorrow for BBC Two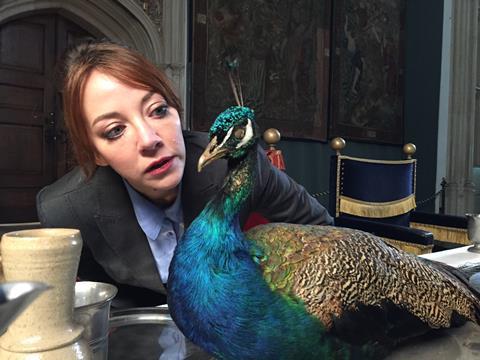 Having started out as a character on Charlie Brooker's Wipe formats, dim-witted Philomena Cunk was a natural hit in this spin-off.
Directed by Lorry Powles, this one-off, in which the ill-informed Cunk, played by Diane Morgan, went on a journey to discover the history of Christmas, attracted a consolidated audience of more than 1.6 million.
HARRY HILL'S ALIEN FUN CAPSULE
Nit Television for ITV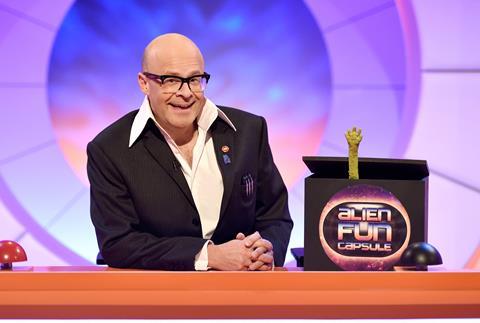 Harry Hill's debut panel show was never going to be a straightforward affair, but this anything-goes series, in which two teams are tasked with saving the planet from alien invasion, stretched the format like few shows before or since.
A bright spot of ITV's refreshed spring schedule, the series received extensive critical acclaim, and a second run has been commissioned for 2018.
PEOPLE JUST DO NOTHING
Roughcut TV for BBC Three
Beginning life as a series of YouTube webisodes, Roughcut discovered this mockumentary in 2012 and series four hit BBC Three screens earlier this year.
Having already scooped Baftas for series two and three, the fictional world of Korrupt FM and its DJs MC Grindah and DJ Beats is now a fixture with BBC Three's core audience.
PETER KAY'S CAR SHARE
Goodnight Vienna Productions for BBC One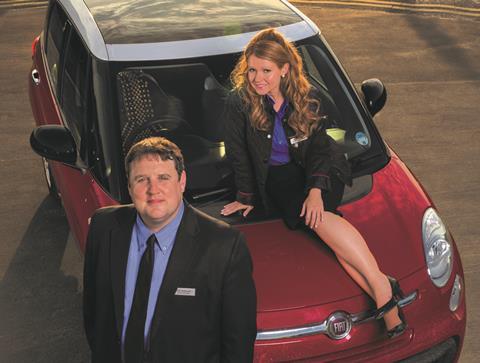 One of the UK's best-loved comedians built on the success of the first series of this groundbreaking comedy, with each of the four episodes of series two raking in around 10 million consolidated viewers.
Having called time on the show, Kay has since bowed to fan pressure to complete John and Kayleigh's story with one final episode, plus an unscripted special.
REVOLTING
Hat Trick Productions for BBC Two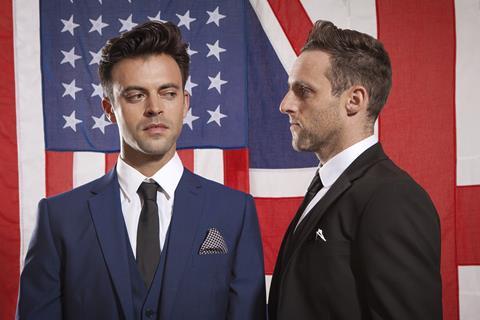 Heydon Prowse and Jolyon Rubinstein, the team behind The Revolution Will Be Televised, unleashed another satirical comedy to challenge audiences and explore issues.
The first series featured the much-talked about Real Housewives of Isis sketch, which became the BBC's eighth biggest Facebook post of all time.
Award sponsored by Pinewood TV Studios