"To deliver world-class productions, through best-in-class talent from a regional post house, deserves celebration"
Films at 59 has been a dominant force in Bristol's post-production community for 28 years. It employs 120 people and has offices across the city – in Cotham Hill, West Park and Whiteladies Road – as well as a base in Cardiff.
In addition to its extensive post-production offering, it runs a large-scale camera-hire operation that provides filming kit for many of the productions it posts.
The post side of the business recently underwent significant expansion, with an additional Baselight Two grading system installed to meet increasing demand, plus upgrades to its online suites and investment in its storage and archiving systems.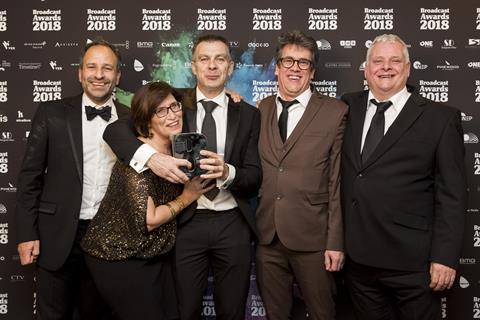 One of the highlights for Films at 59 in 2017 was landmark natural history series Planet Earth II. The judges admired its work on this and other standout productions, including BBC One drama series Three Girls (pictured), with one commenting that Films at 59 works on an "impressive range of programmes and a diverse slate. The content looks great."
Another judged added: "I am particularly impressed with the way it takes the multi-format Planet Earth footage and turns the material into a seamless piece of beauty."
Films at 59 was also recognised for providing best-inbreed post-production services outside of London.
One judge summed it up: "To deliver world-class productions, through best-in-class talent from a regional post house, deserves celebration."
SHORTLIST
DOCK 10
It was a busy year for the Salford postproduction house, which acquired Manchester's long-standing VFX studio 422, rebranding it as Dock 10 VFX.
It was a move that enabled Dock 10 to provide a full range of post services to a wider client base working across broadcast, commercials and corporate productions.
ENVY
Envy is now 12 years old and has had a huge impact on the post scene during its rapid expansion across its Fitzrovia heartland.
Towards the end of 2016, it opened its sixth Fitzrovia facility – the home of commercials and short-form wing Envy Advertising – and continued its growth shortly after, with a new floor on top of the building, housing yet more edit suites.
HALO POST PRODUCTION
Halo underwent significant growth last year, opening a dedicated offline editing facility on Brewer Street that eliminated the need to set up 'pop-up' cutting rooms during busy periods.
It also bolstered its immersive sound-mixing facilities through major Dolby Atmos updates to two of its audio suites, including its flagship Studio One.
MOLINARE TV & FILM
Molinare became an early pioneer of 4K UHD picture post when it worked on one of Netflix's first UK commissions, The Crown. It was also heavily involved in the development of the workflow for the pioneering drama series.
The facility has continued to invest in a wide range of technology to support a new infrastructure designed specifically for the growing demands of 4K post-production.
TECHNICOLOR
Technicolor acquired respected VFX company Munky towards the end of 2016 in a move that added extensive VFX services to its audio and picture post facilities.
The firm works across TV and feature films, and recently enjoyed a 20% growth in demand for broadcast work, in particular for high-end 4K and HDR work for OTT providers.