In its programming and ancillary work, Dave has proved itself a worthy winner
The self-styled 'best of British comedy' channel Dave did much more than just make people laugh this year. UKTV's flagship channel worked hard to shift the long-held perception it is a channel of re-runs by flourishing through several high-profile original shows and smart acquired programming.
Scripted comedy Meet The Richardsons and panel shows such as Mel Giedroyc: Unforgivable and Hypothetical put its high-profile talent front and centre, while Big Zuu's Big Eats broke in new talent and drew younger audiences to the channel.
To date, the series has reached over 2.3 million viewers, with 55% of those aged 16-34. Dave has increased its share in the demographic in the first quarter of 2021 to 1.9% – its highest share of that age group since 2016.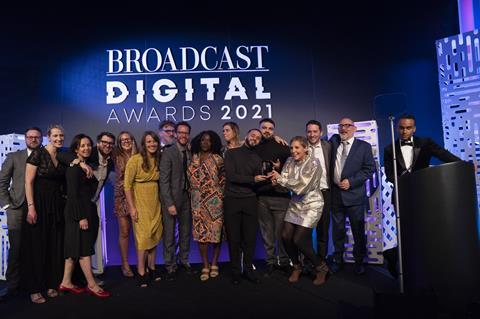 Red Dwarf returned with a feature-length special and bettered expectations, consolidating after to 1.6m after seven days, up 700% against the slot average, and becoming Dave's third highest-rated show of all time.
Away from programming, Dave advocated for issues affecting individuals across the industry. As the nation struggled during the pandemic, Dave developed adaptive and reactive marketing including isolation activity to act as a companion to audiences, such as "Be the mate you'd want". It utilised its charity partnership with CALM to encourage friendship during tough times – and also launched comedian-led isolation podcasts.
In early summer, an audience request from a social post saw the channel create and sell out 1000 Dave masks to cheer people up. Money from each went to CALM while raising mental health awareness among our predominantly male audience. It did so well, Dave created more at Christmas.
In its programming and ancillary work, Dave has proved itself a worthy winner.
SHORTLISTED
BBC Scotland
The brief of this channel is to "reflect modern Scotland be bold, ambitious and grow new ideas and talent". Since its launch, BBC Scotland has supported the growth of over 70 indies and creative partnerships and launched over 100 new programme titles. Charged with bringing new audiences to the BBC in Scotland, the channel added 1.4% unique reach to the BBC (within its TX hours) in 2020-21.
BBC3
Billing itself as home of bold and dynamic programming, BBC3 blends escape and entertainment as well hard-hitting, powerful documentaries from across the UK. It myriad hits Drag Race, Glow Up, The Rap Game, Meet the Khans: Big in Bolton, Defending Digga D, Roman Kemp: Our Silent Emergency and Zara McDermott on Revenge Porn alongside global smash Normal People has helped the channel cut through in a crowded market and brought huge numbers to iPlayer.
CBeebies
As the "beacon" of routine, familiarity and certainty for families during a year like no other, CBeebies reached a weekly average of 34% of its target demographic (0-6 years) over the past 12 months. It stands 19 percentage points ahead of its closest UK competitor and has also grown on BBC iPlayer during this time period, attracting a staggering 1.4bn BBC requests, averaging out at 27.2m requests a week.
More4
More4 combined the most inventive and agile creative response to the Covid crisis to deliver a very successful year. Combining a smart scheduling strategy and a lean commissioning approach, the channel delivered new titles and record audiences, growing all individual share by 7% year-on-year, and ABC1 audiences by 8%, despite operating under significant financial constraints.
Sky News
In an extraordinary year, Sky News put people and information at the heart of the Covid story to provide a public service whilst also challenging the authorities in charge of all our lives. Against this backdrop, the channel provided insight and coverage of the biggest topics including Brexit, the US election, and shone a spotlight on diversity following the killing of George Floyd. Sky News was regarded as the most impartial news provider in the UK with an increase of five percentage points in the past two years.