A business firing on all cylinders
What a way to celebrate turning 21 for Monkey Kingdom, the NBCUniversal International Studios-owned unscripted indie behind long-running powerhouse reality brands such as The Real Housewives of Cheshire and Made in Chelsea (which also celebrated its 21st series in 2020).
Firmly established as a top tier player in constructed reality, the indie has focused on developing in other genres, and the success of ITV2's variety-meets-sketch series The Emily Atack Show, diverse panel format Don't Hate the Playaz and entertainment hit Karaoke Club – which this year launched spin-off Karaoke Club: Drag Edition – highlight a business firing on all cylinders.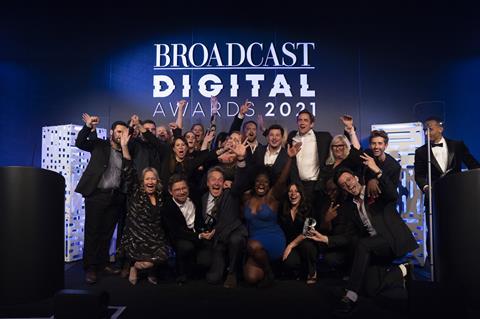 The coronavirus appeared no problem for a team ably led by Samantha Lawrence, David Granger and Will Macdonald, as Monkey Kingdom produced more than 100 hours during the pandemic. Made in Chelsea moved cast to a Covid-safe bubble in Surrey, Suffolk and the Cotswolds, while sketches were rewrote for Emily Atack to allow for social distancing, and Celebrity Karaoke Club was shot in just a week to allow for testing and isolation.
Commissions also came from Sky 1, for a remake of the Broadcast Digital Award-nominated Dating No Filter, and E4, whose series Pete & Sam's Reality News not only performed on-screen but drummed up three million Snapchat views, as the indie found ways to reach young audiences.
Monkey was also widely praised for casting the first all-black, all-female line-up on a British TV panel show (Don't Hate the Playaz) and 40% of Made in Chelsea's senior team is now from black, Asian or minority ethnic backgrounds. Elsewhere, an LA office opened under the guidance of Ollie Brack.
Here's to another 21 years.
SHORTLISTED
Air TV
The Yorkshire-based unscripted specialist experienced a bumper year, despite the pandemic. From its strong focus on staff development and training to success of its shows – Bangers and Cash is Yesterday's best-ever performer, Really's Helicopter ER is on to a ninth run – the company is proving that it is possible to make a great business of low-cost, high-volume returning series of quality.
Barcroft Studios
Following its £23.5m sale to multiplatform media biz Future in 2019, Barcroft has continued to pioneer its digital-first business model based around ground-breaking and authentic short-form docs and longer-form commissions. With revenues expected to grow 12% to £15.2m in 2021, the company has showed expansion is possible during the pandemic.
Fulwell 73
Is there another production company as busy on both sides of the Atlantic that's creating shows of such high quality? The breadth of Fulwell 73's output is nothing short of astounding, including Netflix's sports doc Sunderland Till I Die series two, Showtime's The Making of Motown and More4's Auschwitz in Colour sitting alongside James Corden's late-night CBS talk show and several scripted efforts.
Strawberry Blond TV
Named the industry's Best Place to Work in 2020, Steve Wynne's youthful indie goes from strength to strength. Despite the UK going into lockdown, its More 4 factual entertainment pilot The Great British Dig was the channel's biggest launch in two years and resulted in a full series commission. Ratings were such that a second is coming and a returnable hit developing.
Sunset+Vine
During a year in which no live sports took place for several months, Sunset+Vine managed to create some of its best work. For example, as Amazon Prime Video's live production partner for its Premier League games, the Tinopolis-owned indie produced 21 games during December, including six on one busy day.