Sponsored content
Find out more
A pioneering new technology could provide the industry with a more sustainable power source on location
Location shoots require plenty of expensive energy, eating into production budgets and adding to the industry's carbon footprint. Happily, production companies are taking steps to reduce their environmental impact and associated financial costs by engaging in greener ways of working on location, as well as in the studio.
But a look at the headline statistics shows there's still a long way to go. According to albert, BAFTA's sustainability initiative, the industry consumes 150 million kWh of electricity and 7 million litres of diesel annually, while an hour of TV produces an eye-watering 13 tonnes of carbon dioxide.
Energy hungry
Use of diesel and petrol vehicles, plus trailers and mobile studios that require fossil fuel-powered generators when there's no access to grid electricity or solar power is increasingly seen as unviable.
The BBC's Wonders Of The Monsoon filmed in Borneo's rainforest and used portable generators, chugging up to 10 litres of petrol a day, while the main power source for the Great Bear Stakeout shoot required 10 extremely heavy, fume-producing lead-acid batteries.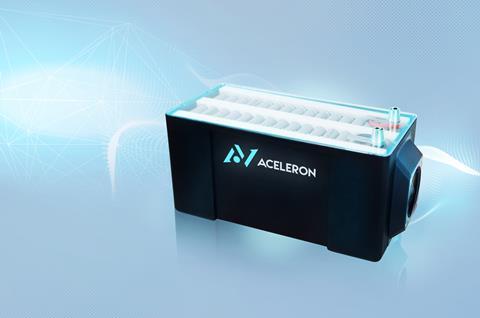 But portable lighting, cameras, sound and recording equipment, radio mics and flying camera drones are mostly powered by smaller internal batteries and here, a switch to eco-friendlier rechargeables is gaining momentum. For example, the Dr Who sound department uses them wherever possible and for their counterparts on Casualty they're compulsory.
In fact, Casualty boom operator Balazs Varga switched to rechargeables for environmental reasons after discovering that another show he'd worked on had used 478 non-rechargeable 9-volt batteries in six weeks.
Reimagining batteries
Even rechargeable batteries have a finite lifespan and need to be disposed of eventually. Recycling them is inefficient, plus they usually require mains electricity for charging. The good news is that there may already be commercially viable alternatives available.
For example, clean-tech start-up Aceleron has developed a new type of rechargeable lithium-ion battery with a life-span of up to 25 years, compared to just a few years for conventional equivalents.
A new Aceleron battery contains the same sub-components found inside conventional lithium-ion batteries but they're constructed differently, so that a failed sub-component can be simply replaced, enabling the battery to continue being used. By contrast, an old-school lithium-ion battery is written off when a single part fails, even if the rest is working.
The company also builds batteries using reusable sub-components from 'end-of-life' batteries sourced from partner companies, carrying out battery recycling under the EU's Waste Electrical and Electronic & Equipment (WEEE) directive. It also uses those partners to recycle its own expired sub-components and (eventually) batteries.
Aceleron batteries come in different sizes and could be used to power electric vehicles or replace conventional car-type batteries to provide a rechargeable power source for trailers and mobile studios. They're cleaner and five times lighter than old-tech lead-acid batteries and weigh less than equivalent, conventional lithium-ions.
An on-location alternative?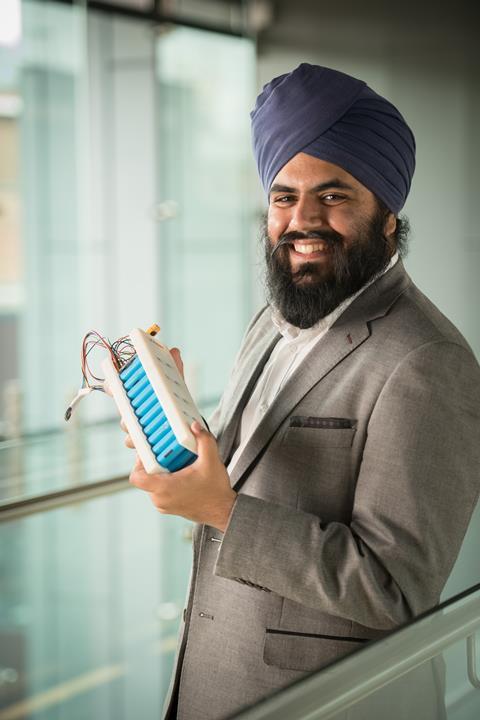 Aceleron founder Amrit Chandan says: "We're currently working on a fully mobile, low-carbon generator that uses a bank of our batteries, which we think could be of great interest to the TV and film production industry. It'll be capable of being charged through solar power and used on location shoots in pretty much the same way as traditional diesel-guzzlers, while generating only a fraction of the carbon dioxide."
Launched in 2016, Aceleron has also developed a hand-held battery unit fitted with domestic three pin power sockets for charging drone and camera battery packs and says it could easily build higher capacity versions if there's enough demand from the industry.
"We can integrate our technology into V-lock format camera batteries and other standard lithium-ion shapes too," says Chandan. These would make productions more sustainable, given cameras can easily get through 10 V-lock batteries every day, according to Jon Wellingham, engineer on the BBC's Planet Primate series.
Circular economy solution
Describing the inspiration behind the technology, Chandan says: "We recognised that conventional lithium-ion batteries use rare chemicals and metals including nickel, cobalt and lithium-ion, that are finite resources requiring lots of energy to mine.
"They're almost impossible to repair and many go to waste with up to 85% of life left in them, while recycling is very inefficient, with 70% of lithium 'lost' in the recycling process. We wanted to build something more sustainable. Our patented compression-based assembly technique means the battery can be continually repaired and serviced.
"Our business model is to supply the batteries at a slightly higher upfront cost along with a maintenance package similar to Applecare. We're proud of creating a product that truly supports sustainability through the circular economy."
To find out more about Aceleron visit www.aceleronltd.com and for information on the albert campaign visit www.wearealbert.org