Sponsored content
Find out more
Has the time finally come for indies in the nations and regions to truly shine? Nick Edwards reports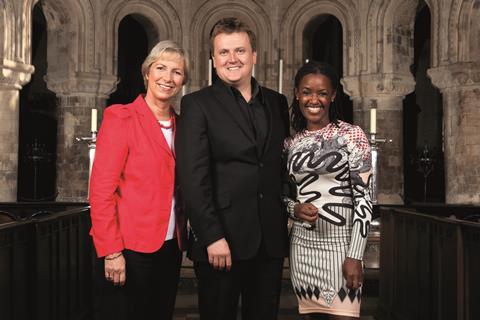 Does BBC's move to Salford and Channel 4's recent announcement that Birmingham, Manchester and Leeds are all shortlisted as contenders for its new national HQ (along with Cardiff, Bristol and Glasgow announced as potential creative outposts) mean that the moment in the sun for indies outside of London may have finally come?
While executives in London may argue that you do not need to be based outside of the capital to have ideas which are relevant to the whole country, having so much of the industry based there means there is a risk of production "being too London-centric and self–referential", says Eleanor Bailey, director of operations at Spun Gold TV.
The London-based producer of factual programmes such as Prince William's Passion and The Real Full Monty, which recently set up a Bristol office.
Spun Gold had intended to have a greater footprint outside of London for a while and looked into Brighton and Birmingham before settling upon Bristol. The reason it chose Bristol was because of its already established infrastructure, which includes being home to the BBC's Natural History Unit.
"Being able to work with the factual talent already in Bristol and draw on the talent in Birmingham and Cardiff was really important to us," says Bailey. "We want to encourage more and more creative people to live and work in Bristol and are hoping other indies will set up there too – the more that do, the better for everyone."
It's a common problem for producers when shooting in certain regions or nations to find all the top level talent has been used up if more than a single production is being made at the same time so sustaining these ecosystems outside of London that talent and crew need to build their lives and careers around is essential if government-triggered relocation initiatives are to be considered a success in the long-term.
But a city like Bristol is comparatively well served compared to the rest of the UK. What many believe would really change the landscape of TV and reflect the different issues around the UK is if major companies set up in Scotland, Northern Ireland and Wales.
"Indigenous companies that understand these areas will find local talent, and enable new voices and ideas to flourish," says Emyr Afan of Avanti Media, which has been established in Wales for over two decades.
There is a perceived misconception on behalf of commissioners that indies outside of London struggle to deliver high-profile productions, despite the fact that some have been doing so for many years.
In addition to making series around local stars such as Katherine Jenkins and the rugby legend and commentator Jonathan Davies, Cardiff-based Avanti – in association with Manchester-based Nine Lives Media – recently bagged the £12 million, 3-year contract to make Songs Of Praise, one of the BBC's most recognised flagship titles.
The firm also produces the MOBO Awards; sells its own IP all over the world, including Britain's Billionaire Immigrants; and makes programmes of international journalistic significance such as a recent Dispatches documentary for Channel 4 about the growing problem of the working homeless.
The recent success of Welsh drama series such as Hidden, Hinterland and Keeping Faith highlight how something intrinsically Welsh (including Welsh-language content) can be successful all over the world in the same way that the Nordic drama series such as The Bridge and The Killing did for Scandinavia.
"There's no geographical restriction on creativity," says Emyr.
Avanti's success caught the eye of Sky, which recently became the majority controlling stakeholder in the company as part of a broader strategy that has included buying into other regional indies such as True North, which has bases in Leeds and Manchester.
It seems that in such a competitive industry many truly innovative programmes will come from outside of the M25 over the next few years and for those who have already made the move there are other lifestyle benefits not to be underestimated:
"It's a 20-minute bike ride and then I'm up in the hills of the Brecon Beacons or down on the beaches of Ogmore," says Emyr.