Guerrilla, a relationship drama set against the social and political activism of the 1970s, launches in mid-April on Sky Atlantic in the UK and Showtime in the US.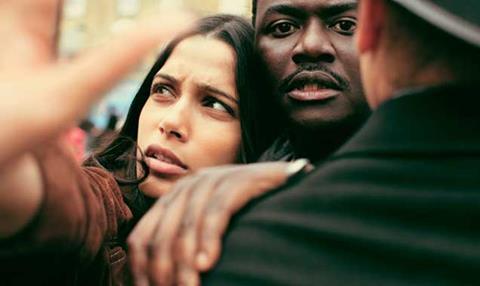 Producers Fifty Fathoms; Green Door Pictures; ABC Signature
Distributor Endemol Shine International
Length 6 x 60 minutes
Broadcaster Sky Atlantic (UK); Showtime (US)
The series took more than five years to make, in part because creator John Ridley became exponentially busier after winning an Oscar for 12 Years A Slave.
The show centres on a politically active couple, played by Slumdog Millionaire star Freida Pinto and Free Fire's Babou Ceesay, who take their activism and relationship to the next level by liberating a political prisoner and forming a radical underground cell.
The pair then take aim at the Black Power Desk, a secretive counter-intelligence unit within the Metropolitan Police's Special Branch dedicated to crushing black activism.
Ridley's original idea was to create a race drama in the US – but that was before he met Patrick Spence, founder of Endemol Shine-backed Fifty Fathoms, in London.
"This started pre-12 Years A Slave," says Fifty Fathoms creative director Katie Swinden, one of the exec producers of the six-part series.
"Fifty Fathoms was set up to go after writers we liked and wanted to work with and ask them if they had any mad ideas that they never thought they'd get away."
After Spence and Ridley's first meeting, the producers spoke to a number of academics who revealed details of a secretive police unit, prompting Ridley, who also created ABC's American Crime, to move the story to London.
This led to The Wire star Idris Elba coming on board as an executive producer through his Green Door Pictures indie and taking a small on-screen role. "You always think you're going to make it in six months, but the [delay] allowed Idris to come on board," Swinden says.
Subsequently, Sky Atlantic, through head of drama Anne Mensah, came on board too, before US premium cable network Showtime became its US home.
Filming took place last summer in London, with Ridley writing the majority of episodes and directing the first two. ABC Signature, the cable production arm of the Disney-owned broadcaster, boarded as a co-producer as a result of an overall deal with Ridley, while former ABC Studios drama chief
Michael McDonald, who now runs his own indie, Stearns Castle, is also among the six exec producers.
Given increasing racial tensions on both sides of the Atlantic, the project seems particularly relevant.
"It's a very timely project, sadly. From our point of view, you could have set this any time since the 1950s, but we're now just a little more aware of the issues [today]," says Swinden, adding that ultimately, it's a "love story" between the two main characters.
Swinden, who worked withElba on BBC1 crime drama Luther and also on series such as Peaky Blinders, adds that the six episodes of Guerrilla have a "satisfying" ending, but that it could return for a second series.
The drama will lead Endemol Shine International's scripted slate at Mip TV, alongside a raft of other titles.
It will begin selling Tiger Aspect's The Good Karma Hospital, which has been renewed for a second series by ITV, to international broadcasters, as well as an adaptation of Evelyn Waugh's Decline And Fall.
The distributor will also launch Sky 1's Bandit Television-produced Dawn French and Emilia Fox-fronted comedy drama Delicious.
Outside of the UK, it will be promoting Brussels, a 10-part drama produced by Endemol Netherlands for KPN. The series tells the story of the collision between the powerful and powerless in the European capital.