Studio Lambert is to explore teenage viewing habits in a spinoff of Gogglebox and is on the brink of a second major international deal for Common Sense, a similar format that shows real people giving their opinions on news and current events.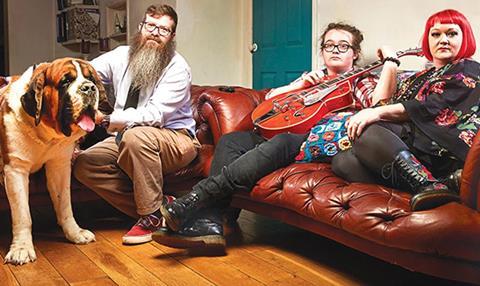 The All3Media indie is working with Channel 4 on the challenge of applying Gogglebox's DNA – "the spontaneous reactions of people to things they are watching" – to teenagers.
That means contributors watching different kinds of online content, on different devices, such as phones, in different places.
"If Gogglesprogs is for kids and Gogglebox is for adults, there's another group in the middle," said Studio Lambert chief executive Stephen Lambert.
"There's a whole layer of innovation as to how we're going to make it."
The show has not yet been commissioned but it could air on E4 or video-on-demand service All 4. Gogglebox has been remade in 32 territories, including the US and Australia, and Lambert hopes Common Sense will be as successful.
The show is a topical comedy that, like Gogglebox, is filmed in real time and turned around quickly.
Its contributors are shot in everyday situations, such as at work or in the pub, and will discuss politics, sport and popular culture.
Earlier this week, US network NBC ordered a six-part run and an Australian broadcaster is also poised to strike a format deal.
The original BBC2 version of the show, created by director of factual entertainment Tania Alexander and voiced by comic actress Ruth Jones, will debut as a 6 x 30-minute series early next year.
Studio Lambert will be pitching it to further territories at Mipcom in association with All3Media International.
Lambert admitted that a "great number" of unscripted shows fail in the US, but said he has high hopes for Common Sense.
"Unscripted television in America is really tough; it's a crowded market so it's very hard to get noticed. Plus viewers are also amazingly loyal to existing shows like The Bachelor, Survivor and The Amazing Race," he added.
Meanwhile, Studio Lambert plans to take on BBC Studios, ITV Studios and the Fremantle Media brands by targeting shiny floor entertainment.
The indie is developing ideas to compete with Strictly Come Dancing or Saturday Night Takeaway, and is negotiating with a top-level entertainment exec to run the new division.
"It is a big risk, but in some ways the genre is less competitive than some others – there just aren't as many companies able to do it," he said.
"If we have the right person, that will give the buyers the confidence that we can deliver. There's no reason why we can't come up with the ideas."