DRG's Benjamin Noot and Discovery's Paul Edwards on circus life, bombers and rough justice.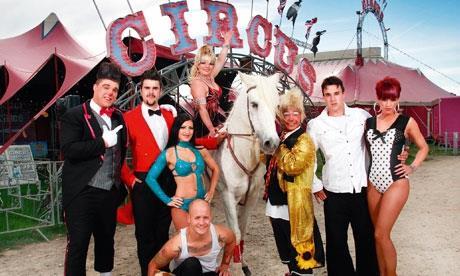 Benjamin Noot
Acquisitions executive, DRG
In the past two years we have seen an explosion of fact ent series with big characters, from gypsies to pawn stars, and now ITV1 brings us The Circus. The reason I love watching these shows is to people-watch from the comfort of my sofa, and The Circus sounded like a winner.
In parts it is – animal trainer and daredevil acrobat Amanda is great. Her care for her horses showed me there are two sides to the circus argument, and I loved that she learned her death-defying tricks in a barn with no other way down.
But for the most part, when not defying the wheel of death or clowning, circus life just seems a bit boring, and the people a bit too normal and lovely. Great people then, but not great TV.
Who Betrayed the Bomber Boys has some incredible moments, and by linking the bare facts with archive footage of some of those who didn't make it back from World War II, it really hits home. Plus, Stephen Fry's authoritative voiceover anchors the film well.
It's great to hear a new take on the story and how the Bomber Boys were used by those in power. It does feel a bit woolly at times – I don't really care that Robin Gibb found an abandoned airfield, but I do care that at one point, life expectancy for the crews was less than two weeks.
A timely film, as the Bomber Boys finally get the recognition that was denied them by the government of the day.
Now for quite an interesting documentary for BBC4, once again doing what it does best by educating me on subjects I probably should know a bit about.
Although starting off slow and ponderous, not unlike the legal system, The Strange Case of the Law is serious stuff – condensing centuries of legal history is no mean feat.
In parts it feels like a history lecture, but throughout the programme, we're taken into the bloody and brutal way our ancestors dealt out justice, with trials by fire and water and the hacking off of body parts, as well as abuses of power by the state and church, all having repercussions in the present day. Hard going at times, but I do feel that I'm better informed.
Paul Edwards
Discovery UK & Western Europe head of lifestyle and entertainment
Having a bit of a phobia of clowns, I approached ITV1's The Circus with some trepidation. It has more than a nod to the recent influx of docs focused on sub-cultures and hidden worlds, but doesn't quite provide either big characters like Paddy and Thelma from Gypsy Weddings or shocking insights into a previously unseen world.
There are a couple of comic situations – such as one of the Darnell family, dressed in a gorilla suit, nodding earnestly while being ticked off by an animal rights activist – but these moments are few and far between.
The show is set up for a will-they-won't-they make the circus work in a time of austerity, and I wanted to like it, but the insights and characters weren't extraordinary enough to pull me in.
Yesterday's Who Betrayed the Bomber Boys will be launched to coincide with the unveiling of a long-overdue memorial to Bomber Command later this month.
Voiced by Stephen Fry, it tells the story of Bomber Command during World War II and their fight to receive recognition for their contribution to the war effort.
Although the film delivers nothing particularly new, it rightly highlights the injustice, and has some great archive, including Richard Dimbleby's report on a Lancaster bomber during one raid on Germany, which explicitly highlights the heroism of these men.
Watching BBC4's The Strange Case of the Law, I felt transported back to Farnham Sixth Form College circa 1991 and my History A-Level. That was no bad thing – not many networks can execute the depth of insight into seemingly impenetrable subjects that BBC4 consistently delivers.
It is presented by Harry Potter (not the bespectacled wizard but a Scottish barrister), who in the first episode introduces us to medieval crime and punishment and how it influences the law today.
A self-confessed history geek, I was spellbound to hear about how money was attributed to different types of damage inflicted on a person as a pre-cursor to how we currently look at compensation.
It's a three-part series and I look forward to the next chapter.
The Circus
Production company ITV Studios
Executive producer Miles Jarvis
Commissioner Diana Howie
TX, 29 June, 8pm, ITV1
Who Betrayed the Bomber Boys
Production company Medicam
Producer/director Alex Beetham
Acquisition executive Emma Sparks
TX 28 June, 9pm, Yesterday
The Strange Case of The Law
Production company BBC Bristol
Executive producer Michael Poole
Series Producer John Das
Commissioners Richard Klein, Martin Davidson
TX 20 June, 9pm, BBC4