"The format has been a particular hit in Brazil, where Record TV's remake exceeded its slot average by 30%"
International buyers often bemoan a lack of new music entertainment formats on the market since the launch of The Voice at the turn of the decade. So selling All Together Now into 10 territories in its first year was no mean feat.
The studio-based BBC One series, presented by comedian Rob Beckett and featuring Spice Girl Geri Horner (née Halliwell) as one of a panel of 100 judges, over-indexed with 16-34s and children in its challenging Saturday evening slot in early 2018.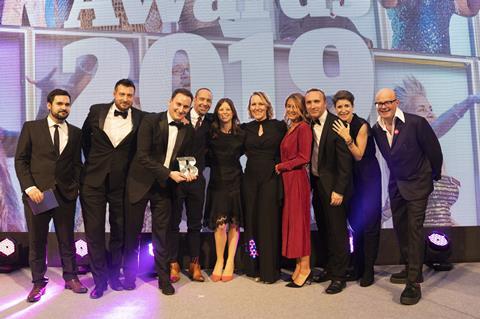 With an average audience of 3.8 million, a celebrity Christmas special followed and a second series has now been ordered.
Endemol Shine Group has closed deals for the format in 12 territories in its first year, including, Brazil, France, Germany and Italy, making it the fastest-selling new title on the market.
In the Remarkable Television format, amateur singers perform in front of a panel of opinionated judges. When the judges like what they hear, they stand up and join in with the song. The more that stand up, the higher the performer's score.
The format has been a particular hit in Brazil, where Record TV's remake exceeded its slot average by 30%, and Denmark, where its 20% share of 15 to 44 year-olds was a whopping 169% above the usual primetime slot numbers for broadcaster Discovery.
SHORTLISTED
ABANDONED ENGINEERING
TCB Media Rights for Like A Shot Entertainment
The creation of this three-part engineering-themed series is the perfect example of a distributor shouldering risk by commissioning content directly from a producer to secure international sales rights. Not only that, but TCB was able to pre-sell the show to UKTV,
Seven in Australia and Science Channel in the US. Further deals followed.
BRITANNIA
Sky Vision for Vertigo Films and Neal Street Productions
Sky's big-budget Roman-era drama generated a whopping £28.5m in sales revenue, recouping the deficit funding Sky Vision provided in record time for the fast-growing distributor.
Signing Amazon's US division and French pay-TV provider Altice was significant, as were rights agreements with HBO in Spain, the Nordics and central and eastern Europe.
CATASTROPHE
Avalon Distribution for Avalon Television with Birdbath Productions and Merman
Selling comedy internationally has always been tough, which makes the near 150 deals Avalon has struck for Sharon Horgan and Rob Delaney's series an impressive achievement. It has also sold as a format:
French Canada's Super Ecran has produced two series to date and an option deal has been struck with Swedish producer FLX.
GUNPOWDER
Endemol Shine International for Kudos Film & Television in association with Thriker Films
A deal with influential US cable network HBO highlighted demand for Gunpowder.
This quickly translated into some 140 deals worldwide, with the likes of BBC First in Australia and HBO's European services snapping up the series, which followed Game Of Thrones star Kit Harrington and Tom Cullen as Gunpowder Plotters Robert Catesby and Guy Fawkes.
LIAR
All3Media International for Two Brothers Pictures
AllMedia International secured deals in more than 200 territories for ITV's high-rating drama Liar. This came after a unique broadcaster pitch process in which the show's two leads recited separate monologues from the audience.
Several broadcasters, including eventual US co-producer Sundance TV, immediately cited their interest and deals soon flowed.