'Truly engaging, emotional and entertaining'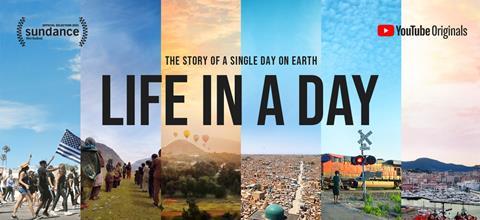 RSA Films in association with Flying Object for YouTube Originals
"A brilliant technical and storytelling feat that truly captured a world under Covid," was how one judge described Life in a Day 2020, the biggest crowdsourced film ever made. They added that the YouTube doc was "was truly engaging, emotional and entertaining".
The documentary was crafted from 325,000 global video submissions all shot on July 25, 2020. The filmmakers received thousands of hours of footage from 192 countries, and a global team of 86 reviewers were tasked with spotting the iconic moments of footage from disparate cultures and languages.
Opening with an extraordinary sequence of women giving birth around the world, the film follows the day, capturing similarities and differences of life on our planet. Set to a thrilling score, there are various milestones threaded through the piece: childhood, the finding (and losing) of love, sacrifice, adventure, becoming old and dying.
One judge commented on the "fantastic" sound design and music and the "huge feat of pulling all the material together from so many contributors". Another said the documentary elicited a range of emotions and praised its high quality, despite the fact it was filmed by ordinary people.
Premiering 6 February 2021, Life in a Day 2020 has streamed to over 16 million people, and as the comments and reviews came in, it became clear it had created a global moment of catharsis and connection at a critical time.
SHORTLISTED
999: On The Frontline
Curve Media for More4
This observational documentary followed nine ambulance crews all filming simultaneously to capture a typical shift with West Midlands Ambulance Service frontline staff. It involved months of planning protocols with Channel 4, Remote Trauma and WMAS, with all filming crews PCR tested, working and living in bubbles and filming the same paramedic paring for the full five week shoot in autumn 2020.
Crowd1: Unmasking the Pyramid Kings
BBC African Eye for BBC World, BBC iPlayer, BBC Africa and YouTube
In this doc, South African journalist and first-time presenter Ayanda Charlie investigated Crowd1 – the high-tech online marketing business responsible for scamming ordinary people across Africa. Since the film's release, Crowd1's chief executive and top recruiter have both left the company, traffic its site has collapsed and 14 countries have issued warnings against Crowd1, or banned it entirely.
If I Can't Have You: The Jodi Arias Story
Arrow Media for Investigation Discovery
When Jodi Arias was put on trial for murdering Travis Alexander, she was villainised on television screens across the US. Filmed entirely during lockdown in 2020, this true crime doc grants viewers access to Arias' personal diaries, unseen police interviews and interviews with friends and family – to reveal her in a different light.
JonBenet Ramsey: What Really Happened?
Arrow Media for Investigation Discovery
One judge said this compelling documentary was a remarkable feat considering the challenges faced, noting there were no signs of Covid protocols in its execution. Revisiting the murder of the six-year old American beauty queen, the documentary accessed an exclusive archive to tell the story with a fresh angle. Backed by JonBenet Ramsey's family, the film reminded the world it could still be possible to find her killer and bring closure.
O.J. And Nicole: An American Tragedy
Arrow Media
With O.J. Simpson often capturing the headlines around the murder of Nicole Brown Simpson, this two-hour documentary sought to tell the story of the victim. Arrow Media rewrote the story with a new perspective, hearing from Nicole's friends and family, including younger sister Tanya Brown, best friend Robin Greer, as well as officers, law enforcement and legal counsel who took part in one of America's most infamous investigations.