Riviera is a 10-part thriller starring Julia Stiles as the resourceful wife of a billionaire who has to navigate the opulent and morally ambiguous world of the ultra-rich after her husband's death.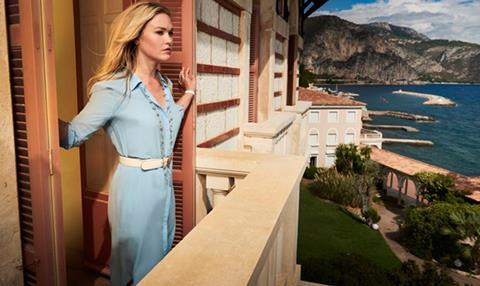 Distributor: Sky Vision
Producer: Archery Pictures; Primo Productions
Length: 10 x 60 minutes
Broadcaster: Sky Atlantic (UK)
Producer Kris Thykier's friend Paul McGuinness, best known as U2's former manager, came up with the idea of dramatising the most intoxicating and glamorous aspects of the French Riviera and the pair developed the idea together. They then approached Oscar-winning writer and director Neil Jordan who, in Thykier's words, "rather brilliantly created this family drama with a very clear female lead who, although she's married into a very wealthy family, is sort of on the outside".
At its heart, the show is an emotional thriller, but the producers, who include Archery Pictures' Liza Marshall, say it will be set apart by its glitzy aesthetic, with a star-studded cast wearing ultraglamorous costumes.
"There is something about the French Riviera that has beguiled people for years," says Thykier. "And yet there's also a sense that there's a bit of danger and darkness to it."
The series follows Stiles' character Georgina, who is newly married to billionaire Constantine Clios when he is killed in a yacht explosion. She is shocked to discover the fortune that maintained his lifestyle is tainted with dishonesty, crime and murder.
Georgina has to maintain the Clios mansion and save the family from its enemies and itself.
Launching to the international market in Cannes has given Sky the rare opportunity to invite 40 potential buyers to experience the lavish world of oligarchs and art dealers on a set visit with the key cast, including Stiles.
Sky Vision managing director Jane Millichip says the distribution arm is already in advanced talks with broadcasters in the US, but no deals have been agreed. She adds that the pace, sensibilities and volumes of Sky 1 and Sky Atlantic drama series tend to be "attuned" to the US market.
"Sky is not afraid to go to dark places, but we'll never go bleak in the way that British drama, and very-high quality British drama, sometimes can," Millichip says.
"Sky drama is often visceral and muscular, like The Last Panthers, and while Riviera is a completely different sort of piece, it still doesn't pull its punches. There are some strong scenes, but we're not afraid to package something as tough and glamorous in the same piece."
Millichip says that style of drama has a broad appeal, particularly suited to US high-end cable channels, but key mainland European markets are also important targets, as well as public service terrestrial television and SVoD platforms.