Media technology consultant Adrian Scott has died, his family has confirmed.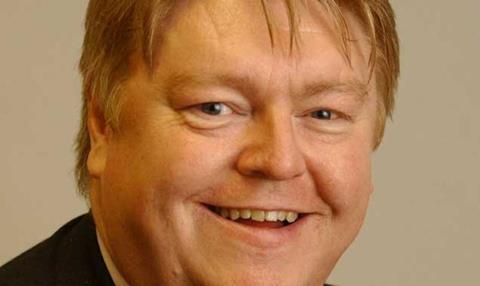 The highly respected and much loved industry stalwart spent more than 40 years working for broadcasters, manufacturers and industry bodies as a journalist, editor, conference speaker, chief marketing manager and consultant.
Scott passed away peacefully on 18 July 2017 following a stroke. He leaves wife Catherine and two children, Rory and Anna.
Peter White, the chief executive of the IABM trade association, described Scott as "a huge figure in the broadcast industry, not just in stature but in personality and sheer presence."
"Everyone at IABM that knew him admired him for his wit, his intellect and his passion for the industry," he said. "We will always remember fondly many a time at an IABM conference when Adrian would hold the audience spellbound with his comments and interjections, they always got to the nub of the issue but at the same time were tinged with his special brand of wit and humour. He will be sadly missed; the industry is much the poorer for his passing."
His career
Born in Edinburgh in 1951 and a journalist by trade, John Adrian Douglas Scott started out in publishing before moving into radio where he spent nine years as a scriptwriter and bulletin editor at Independent Radio News (IRN) and a further nine at LBC as producer and presenter.
He moved into television news in the early 1980s, first with TV-AM, where he was a producer and news editor, and then ITN, via its BASYS newsroom subsidiary.
With BASYS sold to DEC and subsequently Avid, he was appointed as the latter's broadcast market manager before becoming its vice president of marketing for news.
Scott held many other senior positions during his career including director of marketing at Autocue, chief marketing manager of Pro-Bel (now SAM) and associate director for Media Asset Capital.
In 2002 he started his own media technology consultancy, Bakewell House, working with broadcasters, manufacturers, systems integrators, investors and industry bodies.
As a consultant he was able to help a huge number of companies with, in his own words, "market research, sales, marketing, communications, kicking doors down or just applying the wisdom born of experience."
A highly proficient and entertaining conference speaker, Scott also worked extensively with IBC, sitting on its conference committee and operating as a session producer and chair.
His influence
Scott's friends, colleagues and acquaintances described him as "highly knowledgeable", "eloquent" and an "icon in the broadcast industry". He was also praised for his ability to "captivate an audience" and for his integrity.
A hard worker who was also a "nice guy to hang out with", Scott left a permanent mark on the broadcast sector, having been a co-founder of the global society for asset management and evangelised non-linear editing, among other things.
Scott was the recipient of the TVB Europe lifetime achievement award in 2015.
Memorial service
Following a private family cremation, and a funeral in Somerset in late summer, a memorial service celebrating Scott's life, will be held in London.
Further details will be made available at a later date. To keep informed and to add a tribute or share a memory, an online document has been made available.