The product automates robotic cameras covering football, with natural looking framing of the action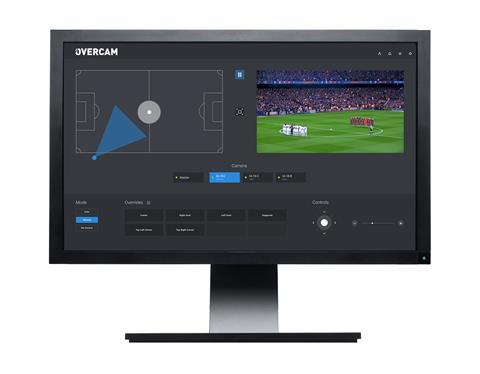 EVS has revealed automation product Overcam, marking the sports tech giant's first major move into AI-driven camera automation.
Overcam automates key camera positions, delivering additional camera coverage at lower cost. It uses machine learning techniques to mimic traditional camera framing, providing footage similar to that of a human-operated camera position.
Overcam controls multiple robotic cameras around a pitch, steering the cameras to frame the scene. It works using smart tracking, which continually analyses key parameters of the game, including the players and ball positions.
The system is designed to integrate with existing multi-camera live production workflows where the robotic cameras can be mixed with manually operated cameras.
The system is based on neural networks and computer vision and is powered by EVS' AI engine VIA Mind.
EVS has launched Overcam initially for live football but says it will "ultimately be used for other sports such as basketball and hockey."
It says Overcam has been created to help "save money, expand camera coverage, standardise hard-to-achieve viewing angles, and position cameras in costly or constrained areas that avoids blocking the sale of seats."
EVS promises "smooth, natural-looking framing of the action with optimal visual results, including real optical zoom and depth of field."
Overcam runs on a server located either in the venue or in a remote operation centre. The cameras are calibrated automatically.