Rails against lack of opportunities for women and diverse people in Alternative MacTaggart
Jameela Jamil has lambasted the UK TV industry for a perceived penchant for placing women and ethnic minorities in "boxes", while revealing plans to launch a "radically inclusive" production company.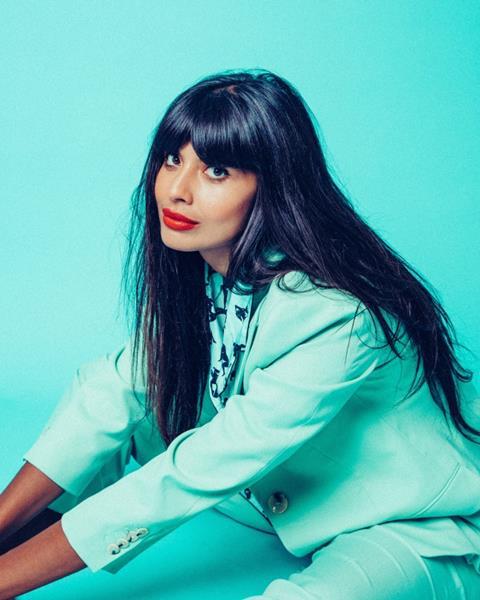 Delivering Edinburgh's Alternative MacTaggart, Jamil laid out a set of searing home truths about the way in which women, black, Asian and disabled people are treated in the UK sector, contrasting it to her more positive experience in the US.
"Our industry loves to 'box' women in, in particular, and that is very UK-specific," said the former T4 presenter and activist, who is of South Asian descent.
"We have a long way to go when it comes to understanding that humans are multifaceted."
In conversation with Afua Hirsch, Jamil pointed to the lack of South Asians on TV, stating that since she left the UK presenting game, there has yet to be a mainstream woman from a similar background helming a format.
Part of the issue, she added, is taking place behind the camera, with Jamil noting she has never worked with a black or Asian director or producer, and worked with just one South Asian exec producer towards the start of her career.
"[BBC comedy] Goodness Gracious Me was our only form of representation when I was growing up before we started being cast as terrorists," she added.
Industry 'denying' itself
The former Radio 1 Official Chart host recalled her entrance into the sector as a T4 presenter 12 years ago and compared it with her awakening after arriving in the US, during which time she starred in NBC's metaphysical comedy The Good Place as Tahani-Al Jamil and also wrote comedy.
Jamil said: "In the UK, I was only allowed to be an 'It girl', but I came to the US and could indulge all the different facets of my skillset.
"We deny ourselves so much over here – we have some of the best talent in the world and I'm so sad to see them [have to] go to the US to become huge superstars."
Black female comics such as London Hughes and Gina Yashere have achieved mainstream success in the US, with both speaking out publicly about the lack of opportunities in the UK.
Jamil said the US is also far less ageist but did concede that the nation is "very behind on South Asian representation".
Now back in the UK, Jamil revealed she is launching a production company, which she described as a "radically inclusive space".
Jamil was scant on detail but said she is self-funding the company and building a diverse team both on and off screen. "Ava DuVernay said, 'Stop fighting for a seat at the table, just build your own' so I'm trying to build my own table," she said.
Backing up MacTaggart lecturer David Olusoga's comments earlier this week, Jamil sounded a note of hope that the next generation of young people will generate a positive shift.
"We've never had a generation like Gen Z before who mobilise and make their point so eloquently and powerfully," she added. "This is the beginning of true systemic change."