Northern Upstart's Judith Holder and Holler's Alex Pullin on Danish drama, priests-to-be and Jedward.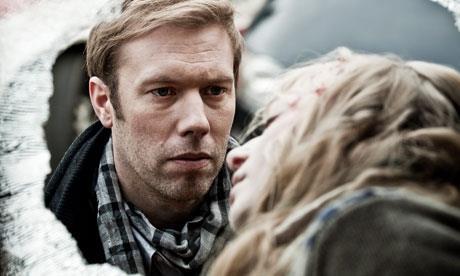 Judith Holder
Director, Northern Upstart
The Killing and Borgen have already robbed me of dozens of hours of my life, and Those Who Kill is another dank, dark, Danish drama, where it seems to always rain, drizzle or snow – and the main characters dress for the weather in woolly jumpers and sensible shoes.
ITV3's acquisition starts with the usual formula: a body found in mysterious circumstances, a serial killer with signature hideous behaviour, and a brilliant female detective with attitude.
Trouble is, she and her forensic psychiatrist come up with all the answers rather easily. Unlike its predecessors, this one gets to the point too quickly, finds the killer in a nanosecond and verges on horror movie territory. It's the fast-food addition to the genre.
BBC4's Catholics feels like a properly intelligent, old-school documentary, with great access and a non-judgemental approach.
It makes a welcome change to revel in a world rarely seen on TV – namely a Catholic seminary. The only snag is that it is populated by almost identical, earnest (but rather dull) young men wearing the same casual jumper. One character shines – doubtless the series was commissioned on the strength of a taster tape with him in – a former heavy metal roadie who is the only trainee with experience of 'real life'. He is fabulous, and if he were a priest near me, I might even be tempted to go to church.
Film-maker Richard Alwyn clearly gained the total trust of his subjects, and Catholics is a clever and important documentary.
I'm not a fan of Jedward – or at least I didn't think so – but Jedward's Big Adventure is infectiously, contagiously jolly.
Despite their hideously silly hairdos, they get down to the serious business of teaching us stuff without us noticing – and with some success. It's a thinly disguised way of getting kids to listen up about William the Conqueror and Guy Fawkes, but it works.
It draws on the success of Horrible Histories in terms of production values, and the voiceover has a large dose of Come Dine With Me attitude to it. Anything that makes children take note when being told about the Tower of London is fine by me.
Alex Pullin
Copywriter and social media content creator, Holler
"This is a routine case," says the quite corny (subtitled) dialogue in the opener for Danish drama Those Who Kill. But is it?
Bleak, violent, snowy crime drama seems to be the main export of the Scandinavian world these days. This ITV3 import has jazzed this up by creating some brilliant characters, then choosing a different member of the team to focus on for each two-piece mini movie.
Then there's the pace of it. For an 89-minute programme, there's no down time. Before the opening titles have even run, lady detective lead Katrine Ries Jensen fits in some boxing, a dead body, a shootout and the immortal words: "You're off the case." She'd be out kicking some bottom before Sarah Lund had even got her head into a chunky knit.
You could be forgiven for thinking that Allen Hall might be some divine drinking den – just around the corner from the Kings Road, it's a place where Italian fashions meet bling – but all is not what it seems. Allen House is actually the seminary of the Diocese of Westminster, a training centre for would-be Catholic priests, where they learn everything from philosophy and singing to the holy tools needed for a 3am trip to casualty.
BBC4 series Catholics examines a different group within the religion each week, and in this episode, budding church leaders are questioned on their choice of career. Much of the probing about scandals in Catholicism and the decline in people practising the faith is left unanswered, but it still offers a fascinating insight.
Can anyone remember a world without John and Edward Grimes? Jedward have taken their unique combination of child-like simplicity and inane chatter to the very top.
Powered by pixie dust and hairspray, they've met the US president and represented their country in the bloody battlefield of Eurovision – so what's left for the brothers Grimes? Children's TV, it seems.
Jedward's Big Adventure sees the pair take on history itself, as they focus on an historically important UK site each week, acting as tour guides and generally larking about in increasingly odd outfits. "Which twin knows more?" we're asked. It's challenging TV.
Those Who Kill
Production company Miso Film
Producers Jonas Allen, Peter Bose
Commissioner Angela Jain
TX 23 February, 10pm, ITV3
Catholics
Production companies Wingspan Productions, Jerusalem Productions
Executive producers Archie Baron, Clare Paterson
Commissioners Richard Klein, Charlotte Moore
TX 23 February, 9pm, BBC4
Jedward's Big Adventure
Production company Initial
Executive producers Christopher Pilkington, Melissa Harding
Series producer Steven Handley
Commissioner Damian Kavanagh
TX 6-10 February, 4pm, CBBC