The BBC is to redouble its efforts to resolve a long-running dispute with Hollywood studio Twentieth Century Fox Television to feature Family Guy on iPlayer following the decision to shift BBC3 online.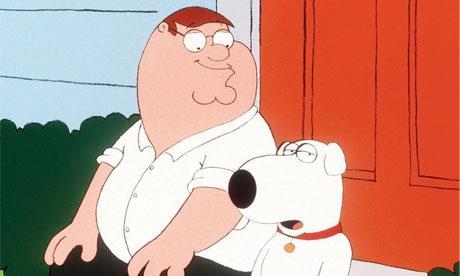 The future of the edgy Fox cartoon on UK television was thrown into doubt after director general Tony Hall revealed plans to move BBC3 online in 18 months.
Broadcast understands that although the BBC has acquired the UK digital rights to Family Guy, a disagreement with the studio's international distribution arm has prevented it from being streaming on iPlayer.
Fox is thought to be unhappy with the security levels surrounding the BBC's VoD service.
The iPlayer ban has extended to other key Fox acquisitions including the Elijah Wood-fronted stoner dog comedy Wilfred.
Family Guy, which follows the adventures of local New Hampshire idiot Peter Griffin and his family and friends, is one of the top performing shows for BBC3 and airs on the channel alongside Fox's American Dad.
Family Guy regularly pulls in more than 500,000 viewers in its late night slot and took up 11 of the top 20 most-watched slots on the channel in February. It was beaten only by films including Little Fockers and Enemy of the State and the launch of reality series Hair.
There was outcry from Family Guy fans when it emerged that BBC3 would be moved online. BBC director of television Danny Cohen sought to play down the fears during a BBC Free Speech Q&A session hosted on Twitter last week:
.@Foo_Cough Family Guy and American Dad are so important to BBC3. We plan to continue showing them.

— BBC Free Speech (@BBCFreeSpeech) March 7, 2014
Marion Edwards, president of international television at Twentieth Century Fox Television Distribution told Broadcast: "We value our relationship with the BBC and are really proud of the work that the BBC and Twentieth Century Fox Television Distribution have done together to build the franchises of both Family Guy and American Dad in the UK market."
A BBC spokesman added: "We will be speaking to all our suppliers, following last week's announcement. However, at the moment due to rights issues, we are unable to make Family Guy or American Dad available on BBC iPlayer."