Bectu is prepared to go to the government's Central Arbitration Committee (CAC) to get union recognition at visual effects house MPC, Broadcast has learned.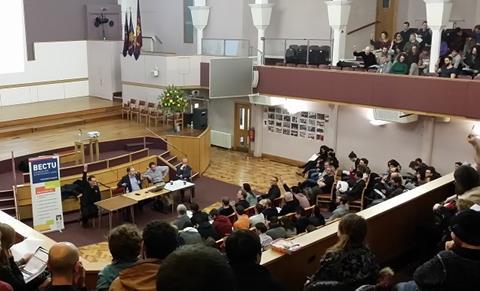 Staff at MPC are said to be unhappy about the need to work long hours and do unpaid overtime, as well as the prevalence of short-term contracts.
The revelation follows a Bectu-organised meeting inside Regent Hall on Oxford Street last week, attended by more than 400 people from London's VFX community.
At the gathering, Bectu members and union reps discussed working conditions at MPC and the goal of unionising the VFX industry around the world.
Media and entertainment industry trade union Bectu wrote to MPC in December to request formal union recognition for the film compositing department so that it can negotiate collectively on behalf of its 130 workers during discussions on pay, hours and holidays.
Talks between MPC and Bectu are continuing but Broadcast understands it is unlikely that recognition will be granted.
Should that be the case, Bectu will take its fight to the CAC where, as long as more than 50% of the compositing department are union members, it believes it can be forced through.
The CAC is the government-appointed body responsible for resolving collective disputes in the workplace. It does this either by voluntary agreement or, if necessary, through a legal decision.
When approached by Broadcast, MPC declined to comment.
Paul Evans, Bectu's national official working with the VFX branch, told Broadcast after the meeting: "Employers [in general] are missing something. They are focused on the changes we might want to make to working conditions. But there's more to it than that. The main thing that came out of the meeting was that our members want a voice and they want to be dealt with in a structured way."
Bectu said it had signed up more than 100 new members at the meeting. The union also revealed that it has now written to another VFX house, Framestore, asking for recognition in its animation department.
The unionisation of Soho postproduction departments could also go beyond VFX, it was suggested.
Evans said: "We are a democratic union, not a political one: we are led by our members. [With VFX], we're showing what we are capable of. At any point, people from the wider facilities market can look at what we're doing and do the same. But the first move has to come from the workers."
Sarah Mackey, the outgoing chief executive of UK Screen Association, the body that represents the UK's VFX companies, responded in kind, pointing out that UK Screen members are all signed up to an agreed employer code of practice and regularly invest in training.