Having launched just 15 months ago, judges praised All 4's "very impressive development" which includes progress on data strategy, high-level algorithmic promotions and download functionality.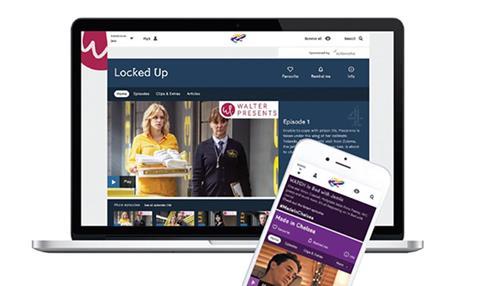 The days of broadcasters' VoD services existing purely to satisfy demand for catch-up viewing are gone – thanks is no small part to All 4. It offers users box sets, thousands of hours of archive content, five channels of live viewing and original and exclusive content, as well as the innovative global drama brand Walter Presents. Oh, and catch-up.
The judges showered praise on the service, launched just 15 months ago, branding it a "very impressive development", and a "big leap forward for an important platform".
It's easy to see why. One key reason is the progress made by Channel 4 on its data strategy, which has seen more than 13 million people register with All 4, including half of all 16 to 34 year-olds in the UK. That means it can offer viewers content via high-level algorithmic as well as hand-picked promotions, all of which is underpinned by useful personal features that reward registration.
All 4 is accessible via more than 20 platforms and offers users a My 4 area for managing their history and collecting favourite programmes, as well as providing download functionality across iOS and Android.
On top of all this, the platform is the main driver in Channel 4 generating around £100m in digital revenues, and predicting far more growth. Branded content is playing a role in that, with All 4 original content already fully funded by the likes of Rimmel, Alfa Romeo, Scope, Sony and Fosters.
Shortlisted
BBC iPlayer
The BBC's on-demand platform took significant steps towards its goal of becoming the 'front door to the BBC'. It is now home to themed archive collections, original comedy and drama, and bonus content around brands such as Sherlock, Strictly and Doctor Who. Live Restart, offering the chance to jump back to the beginning of a show during its TX, is among its most eye-catching functionality innovations.
The ITV Hub
Live viewing of six channels is at the heart of ITV's relaunched VoD service, which makes a special feature of its slick new design. It was launched across all platforms simultaneously on a single day in November and a strong marketing campaign backed this impressive technical achievement. The results were also impressive: a million new users and 62% more hours viewed per week, in just six weeks.
TV Player
Breadth of offer is crucial to TV Player's appeal. It provides more than 85 live TV channels – including 24 premium channels not available on Freeview – on mobile, tablet, computers and streaming TV devices. The latter is part of a low-cost subscription product that offers the best catch-up content in one place.
UKTV Play
UKTV Player has become a genuine force in VoD over the past 12 months, launching on Android, BT TV, Amazon Fire TV and Fire TV Stick, in addition to its existing platforms. Curation is key to the company's approach, with cleverly themed collections of programmes grouped around topics or real-life events.