"A show that speaks directly to the audience in a way we haven't seen for a long time," was one judge's verdict on a format that shook up perceptions of what a music show could be.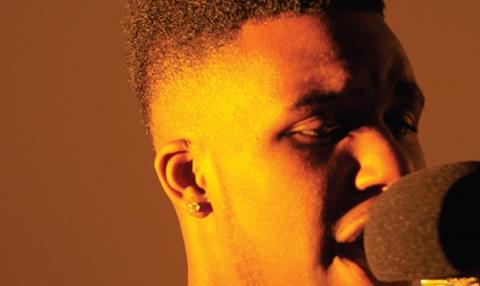 Four to the Floor
Lemonade Money for Channel 4
From its opening scene of female rapper Little Simz cycling though a London estate – a perfectly tracked and choreographed single shot filmed on a gimball – the series was awash with innovative fi lming techniques and technologies. The genre-mixing series went on to feature performances and interviews from upand- coming artists including Young Fathers, Novelist, Slaves and Shura.
Along with the high-frame-rate cameras and low-light lenses used to create the thoughtfully conceived and beautifully produced fi lms, animation was used as a key visual theme, offering young talent an opportunity to elevate the music featured and tell stories in new ways.
FTTF was also crafted with the artists' online fans in mind – with each episode produced in a modular way to enable it to be easily separated and shared, refl ecting the way in which modern audiences watch content.
The series peaked with 160,000 viewers and was clearly a labour of love, offering a refreshing take on the way in which music can be approached on television.
As another judge said: "It felt fresh, innovative and reminded me that we have new music being made in the UK."
Shortlisted
HIGHLY COMMENDED
TEN PIECES
BBC Music Television and Somethin' Else for BBC Learning and BBC Two
The flagship film, shot in a huge aircraft hangar, was the centrepiece of the BBC's biggest-ever music initiative. Screened for free in more than 300 cinemas, the project attempted to turn 7 to 11 year-olds on to classical music by placing them right at the heart of an orchestra as it played 10 epic pieces. A second series followed at Christmas.
THE BRIT AWARDS 2015
BRIT Awards for ITV
No one could have predicted Madonna's backfl ip, but the ability to cope with unexpected situations is testament to the skills of ITV's production staff and hosts Ant & Dec. Nine acts were fi lmed using cutting-edge equipment, including a debut appearance for a Spidercam.
ED SHEERAN STORYTELLERS LIVE
JA Digital for VH1
Broadcast live across linear TV and digital platforms for the fi rst time, this 90-minute show featured a series of stories and performances from the global superstar, shot in an intimate 250-capacity pub in Dublin.
GLASTONBURY 2015
BBC Music Television and Glastonbury Festival for BBC Two
More than 120 acts, including Kanye West high up on a crane, challenged the BBC's ability to comprehensively cover the giant music event.
The BBC team, including nine OB units, also had to deal with last-minute line-up changes such as an appearance from The Libertines.
VE DAY 70: A PARTY TO REMEMBER
BBC Events Productions for BBC One
Designed to highlight the importance of music during World War II, a range of songs were re arranged for a big-band performance fi lmed live on Horse Guards Parade. Overcoming obstacles including demands for silence from the Cabinet Offi ce, the spectacle included video screen 'doors' opening and closing throughout.