Clangers' return to our screens followed reboots of a host of other animated classics that have introduced some old favourites to a new generation of viewers.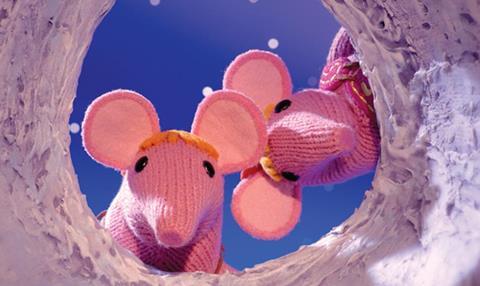 Clangers
Clangers Production team for CBeebies
Clangers' return to our screens followed reboots of a host of other animated classics that have introduced some old favourites to a new generation of viewers. But unlike Danger Mouse, Inspector Gadget and Teletubbies, which returned from the relatively recent 1980s and 1990s, the Clangers and their adventures with the Soup Dragon were revived after a 41-year hiatus.
The lure of CGI was resisted, with the production team remaining faithful to the original production techniques used for the series that first aired in 1969, working with puppet-makers Mackinnon and Saunders and stopmotion animation firm Factory Transmedia.
Based on Oliver Postgate and Peter Firmin's classic series and narrated by Michael Palin, the remake proved popular with critics and audiences alike. A connection with the original series was maintained, with both Firmin and Postgate's son Daniel involved as executive producers. Firmin also took on the role of design consultant.
Clangers' return was a ratings success: 484,000 (4.1% share) tuned in for the opening episode, a significant increase on the last show to air in the same slot on the channel. And the show attracted an audience outside pre-schoolers, with some 66% of viewers aged over 16.
The judges heaped praise on the show, describing it as "beautifully executed, with imaginative new stories" and "charming, stimulating, fun – just simply a great watch".
Shortlisted
Bing
Acamar Films for CBeebies
The CGI show about the adventures of a bunny named Bing made its debut on CBeebies in the summer of 2014. The escapades of Bing and friends, which mirror the experiences of toddlers and parents, are based on the books by Ted Dewan.
Rastamouse
The Rastamouse Company for CBeebies
Rastamouse was unable to repeat its success of 2014, when it triumphed in this category, but the CBeebies stalwart, which launched on the channel five years ago, is still proving popular, with the third series about the crime-busting mouse and pals airing last year.
Teacup Travels
Plum Films for CBeebies
Young viewers are introduced to a world of ancient history and archaeology in Teacup Travels, which follows the exploits of two young explorers – Charlotte and Elliot – who are transported into the fictional world of their Great Aunt Lizzie. The series is filmed on location in Scotland.
Toot the Tiny Tugboat
Toot Enterprises, Lupus Films and Cloth Cat Animation for Channel 5 Milkshake!
A diminutive ship whose stature belies its abilities provides inspiration for small children and encourages them that they are still capable of achieving big things. As well as airing on C5, the pre-school series has sailed onto the screens of viewers of S4C and Netflix.
Topsy and Tim
Darrall Macqueen for CBeebies
Based on the classic 1960s children's books by Jean and Gareth Adamson, CBeebies' first live-action drama series revolves around the escapades of twins Topsy and Tim as they go through life-changing experiences, such as moving house and starting school, as well as more everyday tasks.