Sponsored content
Find out more
Whether you're building a new studio or upgrading an existing one, Audio over IP is a necessity
There are few better ways to futureproof a new studio than to invest in Audio over IP (AoIP), and Dante is the most widely adopted AoIP protocol in music and post-production. Fully supporting SMPTE ST 2110 and AES67 devices, Dante simplifies interoperability and, with the added user authentication, role-based security and audit capabilities that Dante Domain Manager (DDM) brings, it's a must-have in certain environments.
HHB Communications had the opportunity to work with Pip Studios, a post-production facility co-founded by industry veterans Ally Curran, Mark Sheffield and Nigel Bennet. In July, Pip Studios launched with six Atmos-equipped sound stages that are packed with the latest technology. Each room includes a 24-fader Avid S6 Mixing Console, Avid MTRX and a Dolby Rendering and Mastering Unit capable of both theatrical and home entertainment mastering.
Pip was also one of the first studios to receive the rackmountable Apple Mac-Pro 7,1 workstations to host its Avid Pro Tools HDX2 systems.
The Dante difference
These powerful rooms not only represent some of the best technology available, they also support a modern future-proof audio post-production workflow – by heavily utilising the flexibility of Dante AoIP infrastructure, and leveraging efficiency by being able to mix and match audio devices from multiple manufacturers to select the most appropriate device for each unique requirement in the facility.
It is rare that brand new audio-focused facilities are built today, and Pip represents an extraordinary exception. The team behind Pip wanted studios that would have a dynamic, flexible workflow that is supported by a homogenous technological infrastructure.
"We understood from the beginning that there was more than enough work available and the best way to meet this need was to have a facility that could have multiple engineers working on different projects securely in the best rooms available," says co-founder Mark Sheffield.
"It's important that every room offers the same tools and that projects can be moved securely so no one project is dependent on any one particular workstation." "On its own, Audio over IP has been a game-changer for the industry – it has been a success across audio post-production and broadcast audio.
What Dante Domain Manger does is take that to the next level through enhancing the ability to scale, improving interoperability with other AoIP standards, and ensuring security while granting staff the authority they need to get the job done," says John Johnson, CTO at HHB Communications.
For a facility like Pip Studios, DDM is part of the glue that enables different projects to be completed in adjacent stages without creating security risks or taking precious time away from the audio craft. In co-founder Mark Sheffield's words: "It's the only way of doing things."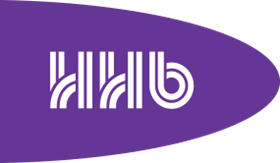 Interested in how your business could benefit from AoIP integration?
Contact the audio experts at HHB today.
www.hhb.co.uk
020 8962 5000
sales@hhb.co.uk