Sponsored content
Find out more
Conveniently placed between Heathrow and Central London allowing for a drive not more than 20 minutes to either destination, the Park Royal Broadcast Studios are ideal for all production companies and TV stations. The studios include the latest augmented reality facilities, video walls, and presenting sets and editing suites.
Whether it is pre-recorded content or live broadcasting, the Park Royal studios are fully equipped with the latest technology to provide a comprehensive package.
Park Royal Broadcast Studios have been designed with the vision to deliver world-class, technologically advanced studio spaces to address the long-standing deficiencies in the quality and availability of such facilities in the UK.
Technical facilities at a glance
The main facilities consist of two studios each of which can be divided and fully configured to accommodate multiple sets. Each studio has a dedicated gallery, sound and light control rooms, dressing rooms and production offices.
Live Broadcast
These facilities include playout services, signal delivery Fibre (EBU) or IP (RTMP, TVU, Zixi and Nimbra VA225). Other facilities include tape feeds receiving (through satellite) and recording with broadcast quality then delivery with FTP (Media Shuttle). Also available are satellite reception and backhaul through Fibre.
Studio - 1
This studio is over 10,000 sq. foot of the latest and best equipped TV sets ready for live broadcast and recorded material. This include four unique sets providing great flexibility for programmes such as talk shows, morning programs, news-hours, news bulletins, stand up explainers and more. All can be produced using the state-of-the-art facilities and the use of over 100's of square metres of video wall to give depth and vibrancy to the desired content.
Included are disaster recovery workstations, production spaces for live news broadcast facilities with fully equipped post production capability including 10 editing suites and state of the art sound facilities and fully equipped galleries.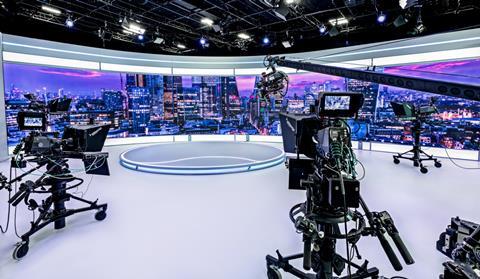 More about Studio - 1
· 5 different News stage configuration approx. over 400 sqm
· 4 high definition videowall
· Videowall A 800 x 225 cm - 2.5 pixel pitch
· Videowall B 900 x 225 cm – 2.5 Pixel Pitch
· Videowall C 500 x 225 cm – 2.5 Pixel Pitch
· Ticker 400 x 800 cm – 2.5 Pixel Pitch
Lighting system – grid: Arri Hoist
· 75 Self-Climbing lighting hoist
· Over 250 fixtures
· Arri Skypanel
· Arri L-Series
· Coemar
· Astra panel
Other equipment
· Wireless Sennheiser earpiece system - EW 300 IEM
· Scenic Videowall - over 500 sqm – 4.8 Pixel Pitch
· LED Monitors – n. 2 LED 84"
· TOUCH LED Monitors - n. 2 LED 84"
· Wireless Sennheiser microphone system - EM /SK
· Jimmy Jib -2 axis - up to 10 metres
· Grass Valley Cameras LDX-86 world cam (pool of cameras shared between studios)
· Lens Available
Ø Fujinon Lens ZA17x7.6 BERD-S6
Ø Fujinon Lens ZA22x7.6 BERD-S6
Ø Fujinon Lens ZA12x4.5BERD-S6 Pedestal
Vinten OSPREY Pedestal
Studios - 2
This studio has one of the largest purpose -built video walls in UK television facilities. The 16- metre curved wall is connected to the infinity curve. With the latest augmented reality tracks and software, this studio is capable of producing spectacular content. This includes over 500 square metres of studio space.
More about Studio 2
· Curved LED Video Wall – 16000mm flexible
· Curved screen size: 16000W x 2550H plus processing including redundancy 16000mm flexible LED display, SMD (3 in 1) sqm - 10 Nova Pro HD u shaped infinity cove
· Drive in access
· Styling and make-up area
· Private production/client room with air-conditioning client area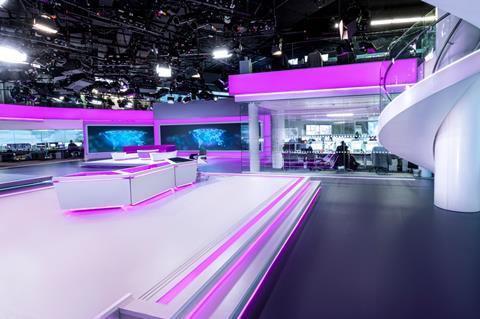 More about the technical facilities available at Park Royal Studios:
10 Edit Suites
· HP Z820 Workstation Power full Configuration
· AJA Kona I/O Video Board
· Adobe Full Package (Latest Update)
· Multi Display Configuration
· Wacom Tablet
· Broadcast Video Monitor
· Genelec Audio Monitors
· 10 Sound proof rooms
Equipment
· Enterprise Storage: Isilon ½ Peta
· Offline Spectralogic - T950 LTO
· Offline Spectralogic - T1200 LTO
· OnLine Dell EMC: HD SDI Video Router
· HARRIS Platinum - IP3 - 261 x 256 I/O
NEWS SYSTEM
· Octopus News Software
Avid
GRAPHICS SYSTEM
·Ventuz n.26 Engines
Vizrt
Intercom
· Riedel Artist 172 x 172
Joint facilities available to both studios:
The facilities include all necessary support including:
· Air conditioning,
· Private shower room,
· Make-up/wardrobe area,
· Built in studio hi-fi and speakers,
· Production office on request,
· Kitchen with refreshments facilities.
For more information and inquiries, contact us at:
Address: Unit 3, Central Park, Central Way, London, Park Royal NW10 7FY
PHONE: +44 7557 596126
EMAIL: info@proyaltv.com