Sponsored content
Find out more
Check out Abbas Media Law's Spring issue of ZOOM-IN Magazine, your essential round-up of this quarter's media law and compliance news affecting broadcasters and indies.
The Spring issue of ZOOM-IN from ABBAS Media Law is out now! Each quarter, ZOOM-IN brings you a round-up of interesting legal and regulatory decisions, as well as the media law and compliance news, affecting broadcasters and Indies.
Catch up on the Duchess of Sussex's successful application for summary judgment in her claim against The Mail on Sunday. Dive into the details about Ofcom's new 'duty of care' protections to improve safeguards for the welfare of participants in TV and radio shows in the Ofcom Broadcasting Code.
PLUS … analysis of True Vision's recent appeal against the ICO fine imposed on it in 2019, over filming for Child of Mine; helpful advice on how production companies can prepare for IR35; and Aaron Matthews of albert explains how you could help save the world and much more.
Finally, do not miss James and Soleta Rogan answering 20 Questions and ZOOM-OUT's guide to getting 'back in the game' after months of lockdown.
Side note: if it's distraction you need, head straight to back pages Screen Break for zoom-in's crossword, Popbitch quiz and Britain's coolest astrologer Carolyne Faulkner's take on what's in store for us over the next few months.
Spring 2021 out now, click cover below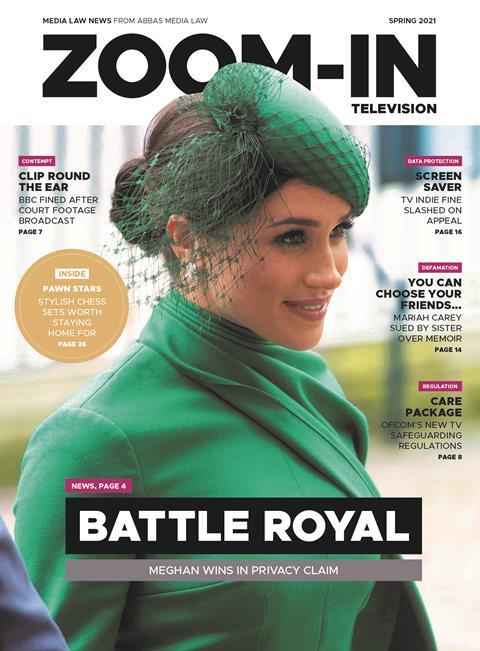 COMPLETE THE FORM BELOW TO SUBSCRIBE