The list is topped by England Captain Leah Williamson OBE, Baroness Sue Campbell and Olympic swimmer Alice Dearing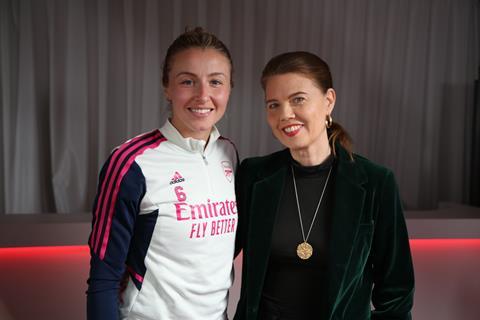 BBC Woman's Hour has revealed its list of 30 UK women in sport who have had the most significant impact over the last year.
The list includes athletes and change-makers, sports leaders and women contributing to grassroots sport.
England and Arsenal footballer Leah Williamson OBE tops the list, which was revealed live on the programme in front of an audience in the BBC Radio Theatre, hosted by Nuala McGovern.
Audiences sent in their suggestions for judges to consider. The list was then judged by Sam Quek (Olympic hockey player and broadcaster) Baroness Tanni Grey-Thompson (one of the UK's most celebrated Paralympians and member of the House of Lords), Ebony Rainford-Brent (World Cup-winning cricketer and broadcaster) and Chair Jessica Creighton (former footballer and award-winning broadcaster).
Williamson captained England on their journey to UEFA European Championship 2022 victory, and, as an Arsenal player, she has won the Women's Super League once, and the FA Cup and League Cup twice.
She is also a highly effective advocate for equal opportunities for girls in sport. She said: "It's lovely [to win the award] – I'm just trying to do my job. My mum will be happy! It's really nice, I'm slightly taken aback by that but very appreciative. As women we've been living in the shadows, maybe, but we know that we have the ability to step up.
"If you can't see it, you can't be it – which is why when we do recognise women like this, it's great because those aspiring to be in these positions can believe that there is a place for them in the sporting world."
Second on the list is Baroness Sue Campbell, director of Women's Football for The Football Association, where she has championed equality, diversity and access in women's football.
Campbell holds a Damehood for services to sport, in recognition of the 50+ years she has spent influencing policy, as well as co-founding and chairing the Youth Sport Trust.
Third is Olympian Alice Dearing, who is one of the four co-founders of the Black Swimming Association, a non-profit organisation aimed at championing diversity in swimming from grassroots to the elite level. Dearing became the first black woman to swim for Great Britain at the Tokyo Games in 2020.
Karen Dalziel, editor of BBC Woman's Hour, says: "The Women in Sport Power List recognises 30 incredible women whose passion, dedication and expertise is transforming the profile and experience of women's sport. We are proud to celebrate the unique qualities and achievements of each of these amazing women as they inspire others and bring about lasting change."
The Woman's Hour Power List 2023:
1. Leah Williamson OBE
2. Baroness Sue Campbell
3. Alice Dearing
4. Ellie Downie
5. Heather Dunnell
6. Helen Hardy
7. Lotte Wubben-Moy
8. Beth Barrett-Wild
9. Sophie Christiansen CBE
10. Dina Asher-Smith
11. Fiona Tomas
12. Sian Richardson
13. Jodie Ounsley
14. Gail Redmond MBE
15. Barbara Slater
16. Somayeh Caesar
17. Emma Booth
18. Manisha Tailor
19. Dr Rimla Akhtar OBE
20. Fadumo Olow
21. Tammy Parlour MBE
22. Jo Tongue MBE
23. Lauren Rowles
24. Maggie Murphy
25. Nalette Tucker
26. Alex Scott MBE
27. Professor Laura McAllister
28. Sue Anstiss MBE
29. Sarah Javaid
30. Ramla Ali