It plans to get underway in Bermuda from April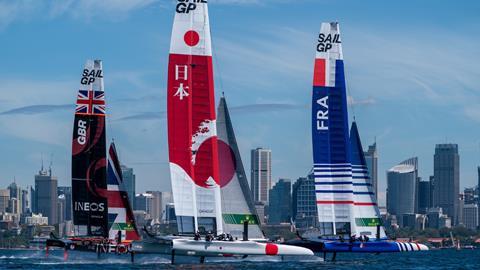 SailGP has announced the schedule for its second season, revealing that it will expand from five races to eight.
It will get underway from 24 April in Bermuda, despite worries over the Covid-19 pandemic.
Travelling across three continents and visiting seven new host venues, only San Francisco keeps its place in the lineup - for the final, where the winner will collect $1 million (£727,832.80).
The seven new venues include newly announced Christchurch, New Zealand on 29-30 January, 2022. The six others are the previously announced Bermuda (24-25 April), Taranto (Italy, 5-6 June), Plymouth (UK, 17-18 July), Aarhus (Denmark, 20-21 August), Saint-Tropez (France, 11-12 September) and Cadiz (Spain, 9-10 October).
Broadcast deals are in place for over 100 territories, including Australia (Fox Sports), Denmark (TV 2 Sport), France (Canal+ Sport), Japan (DAZN), New Zealand (Sky Sport), Spain (TVE and TV3), UK/Ireland (Sky Sports) and the US (CBS Sports).
There are also eight teams competing this time round, with New Zealand making its debut in the competition and Denmark and Spain aiming to complete their first full seasons after Covid-19 saw the last campaign cancelled.
Alongside these teams, France, Great Britain, Japan, New Zealand, the United States and reigning champions Australia will be returning to the fold. Great Britain's hopes may depend on Sir Ben Ainslie, who is racing his first full season at the helm.
SailGP CEO, Sir Russell Couts, said: "There's rarely been a time in my lifelong sailing career when I've been as enthusiastic as I am about our upcoming season. In just over three months, we'll have the world's best sailors lining up in equally matched boats for what is shaping up to be some of the sport's most competitive racing yet.
"I can't think of a better way for SailGP to reemerge, and I believe our fans will be taking notice not only of our thrilling racing, but of the new standards we'll be setting in running our events in a sustainable and inclusive way."
SailGP hopes to encourage clean energy, and is also planning to begin training female athletes within each sailing team as part of its Race for the Future agenda. It will also use SailGP Inspire to introduce youth from diverse backgrounds to sailing and the marine industry.