Lionesses captain Millie Bright stars in the first episode of YouTube show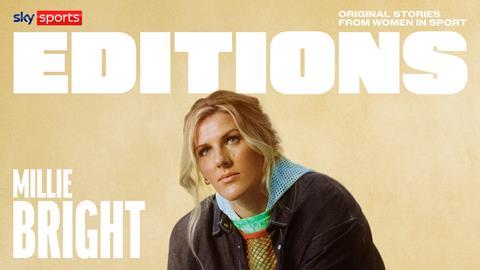 Sky Sports has launched long-form YouTube series Editions, which focuses on famous sportswomen and debuts 29 September on YouTube.
Each episode features an in-depth conversation with the athlete as they style and direct their very own cover shoot. The first episode stars Lionesses captain Millie Bright speaking to reporter Emma Saunders about how it felt to pull on the armband to lead her country, the impact of her family, her feeling of home at Chelsea FC and why playing for the Lionesses helps bring about change for the reputation of women.
Future episodes will include interviews with unified three-belt boxing champion Natasha Jonas, England Netball shooter and player of the tournament at the 2023 Netball World Cup Helen Housby, cricket's world number one IT20 bowler Sophie Ecclestone, and racing driver and 3-time W series champion Jamie Chadwick. Sky Sports F1 presenter Naomi Schiff is the lead host.
Editions has been created in partnership with creative company The Midnight Club.
Sky Sports head of women's sport Jo Osborne said: "Women's Sport is full of incredible athletes and personalities who entertain us on our screens every week. Sky Sports Editions aims to shine a light on some of these superstars and help them to show a side to themselves they don't often get to share. And as women's sport increasingly becomes part of mainstream culture, learning their stories through their style feels like the perfect way to do it."
Partner at The Midnight Club (and brand lead, Editions) Kitty Pemberton-Platt added: "Sky Sports is a pioneer in the visibility, perception and influence of Women's Sport, it's been our pleasure to co-create a strategy and concept which advances that agenda.
"Sky Sports Editions is designed to go deeper, pulling out the energy and sentiment which makes women's sport so special – powered by the raw character, humility and authenticity of the athletes themselves. It's a platform we're thrilled to support – together building an essential destination for the most original stories, from women at the very top of their game."
The first episode of Sky Sports Editions will be exclusively available to watch on Sky Sports YouTube channels and Refinery29 on Friday 29th September.