THURSDAY: A film marking the 90th birthday of Prince Philip put in a regal performance for BBC1, attracting more than 5m viewers.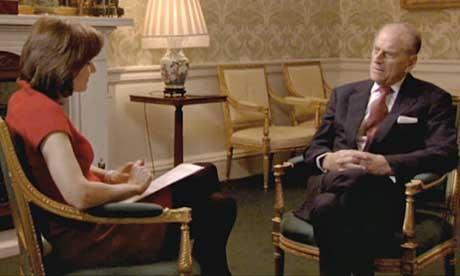 The Duke at 90 saw newsreader Fiona Bruce interview the longest serving consort in British royal history, exploring the life and contradictions of the man that married the Queen.
The biography was watched by an average audience of 5.01m (21.24%) over the 9pm hour, according to overnight Barb figures supplied by Attentional.
It grew its audience over the slot, starting with 4.42m (18.9%) in the first quarter of an hour and ending with 5.5m (23.1%) in the final 15 minutes.
The audience growth ensured it trumped BBC1's year-to-date slot average of 4.22m (17.84%).
A similar film hosted by Alan Titchmarsh for ITV1 also performed well, drawing a crowd of 4.69m (18.8%) in an 8pm slot in late May.
Elsewhere at 9pm
It beat drama Injustice, which recovered from Wednesday's series low of 3.75m (15.19%) viewers, to record an audience of 4.4m (18.65%) in the 9pm slot on ITV1 and ITV1 HD. The story, starring James Purefoy, attracted a further 242,000 (1.37%) on ITV1+1.
Channel 4's documentary strand Born to Be Different returned with audience of 1.89m (8%) over the 9pm hour, while an additional 365,900 (2.1%) watched on C4+1.
The Shadow Line continued with a series low audience of 1.3m (5.54%) in the 9pm slot on BBC2, while the BBC HD simulcast attracted 142,300 (0.6%).
Extreme Fishing with Robson Green – at the Ends of the Earth reeled in 1.2m (5.1%) for C5 over the same period.