Tool will enable family and friends to view and discuss live events in an online forum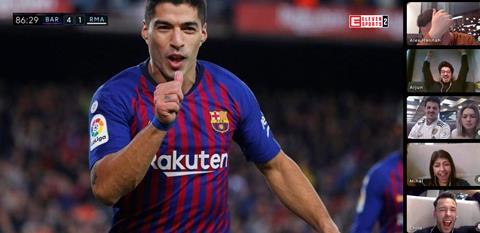 Eleven Sports has revealed a tool that will allow sports fans to watch live events and chat in an online forum.
Designed by tech start-up Reactoo, Watch Together will roll out on a trial basis in the coming weeks, before being launched on Eleven's international OTT markets.
Eleven group chief executive Marc Watson also holds the role of sports and media executive for Reactoo.
Watch Together will allow up to five subscribers to create an "online room" in which each viewer can watch the same sporting event, while they can see, hear and speak to participants in the room during the coverage.
The individual who sets up the room can invite others via text, WhatsApp, email or social media.
The tool is similar in scope to Facebook's Watch Party, which enables an unlimited number of subscribers to view the platform's content and discuss via message at the same time.
It also compares to London-based startup Sceenic's offering, which allows people to watch live TV together via split-screen cameras. The technology provider won the BT Infinity Lab competition.
Eleven's global head of digital Tom Middleditch said Watch Together would help drive engagement by encouraging "active as opposed to passive viewing habits".
"Currently fans debate talking points on text or social media while watching a match or fight passively, but our inventive new product will enable in-person interaction while remaining fully immersed in the action," he added.
The news comes as the disruptive global sports brand strikes a long-term deal with STV to air Spanish football.
The Andrea Radrizzani-fronted outfit has been snapping up sports rights in various territories and recently launched two online channels.