WEDNESDAY: Botanical week on The Great British Bake Off inspired the biggest audience of the series thus far, while BBC2's Conviction locked up 1.2m with its final episode.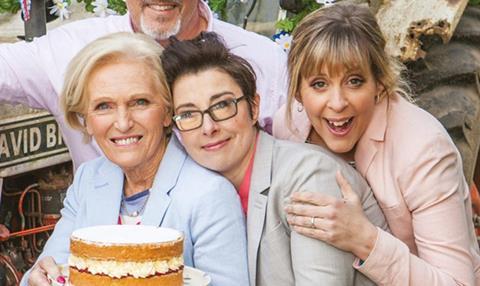 The Great British Bake Off (BBC1) 8pm-9pm
10.7m (45%)
Love Productions' much-debated baking competition hit a series high in the week following news that national treasure Mary Berry would not be moving to Channel 4 for its next season.
It was considerably ahead of the same episode last year, which landed 9.6m (43.6%) and smashed the channel's 5.1m (24.4%) slot average for the last 12 months.
The episode peaked with 11.8m (47%) at 8.58pm, battering the 8pm competition including ITV's All Star Mr and Mrs, which scored a 2.9m (12.2%), BBC2's Coast, which entertained 1.1m (4.8%) and Penelope Keith's Hidden Villages on C4, which landed 1m (4.3%).
Conviction: Murder at the Station (BBC2) 9pm - 10pm
1.2m (5.9%)
The closing episode of Raw TV's real crime two-parter failed to match its 1.4m (6.8%) debut but was in line with the channel's 1.2m (5.6%) slot average.
The documentary was beaten by C5's Can't Pay? We'll Take It Away, which landed 1.7m (8.3%) in the same time slot.
On BBC1, in-house drama Our Girl landed 4m in its penultimate episode. It was 100,000 ahead of the previous week's instalment and beat the channel's 3.8m (18.2%) slot average, according to Barb data provided by overnights.tv.
It also just edged the ratings at the same point in its first series, broadcast in September 2014, which aired to 3.9m (15.7%) in the same slot on Sunday evening.
Elsewhere, DCI Banks continued with 3.2m (15.5%) on ITV while Grand Designs inspired 2.1m (10.2%) on Channel 4.