DCD Rights has found a lot of success with scripted series from Down Under, including political thriller The Code and Bondi murder mystery Deep Water – both of which were picked up by BBC4. But the distributor is now looking for hits much closer to home.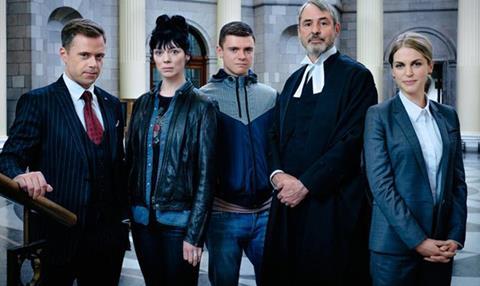 Distributor DCD Rights
Producer Blinder Films
Length 4 x 60 minutes
Broadcaster RTÉ (Ireland)
It has snapped up the international rights to four-part Irish legal drama Striking Out and will be launching the show in Cannes.
Striking Out is produced by Irish indie Blinder Films, best known for sketch comedy Savage Eye, for public broadcaster RTÉ.
It stars Neil Morrissey, Moone Boy's Amy Huberman, Peaky Blinders' Rory Keenan and The
Living And The Dead's Fiona O'Shaughnessy.
Huberman plays Dublinbased solicitor Tara Rafferty, who discovers that her fi ancé and fellow solicitor Eric (Keenan) has been cheating with a colleague.
She leaves him and the law firm they work for to set up her own family and divorce law practice.
She is joined by senior barrister Vincent, played by Morrissey, and tech-obsessed private detective Meg, played by O'Shaughnessy.
The series will deal with ethical and emotional dilemmas faced at work and at home in a similar way to Julianna Marguiles' US legal drama The Good Wife.
The series was created by James Phelan, who previously penned TG4 comedy drama Wrecking The Rising.
Joining him as writers are Rob Heyland (Foyle's War) and Mike O'Leary (Misfits).
Director Lisa James Larsson has helmed US shows including Amy Poehler's Welcome To Sweden.
Striking Out will launch on streaming service Acorn TV in the US after Acorn Media Enterprises became a co-production partner.
DCD Rights chief executive Nicky Davies Williams says the show has "highly relatable" themes, "engaging" characters and a "star-studded" cast.
"We're confident it will have wide audience appeal wherever it airs," she adds.
In addition to Striking Out and its slew of Australian dramas, DCD Rights will be launching a number of non-scripted titles in Cannes.
On its slate are three shows secured in a deal with Scottish indie Tern Television: C4 three-parter Shoreline Detectives, long-running BBC Scotland gardening series The Beechgrove Garden and BBC4's The Art Detectives.
DCD will also be selling around 250 hours of factual titles produced by The Open University, including The Ascent Of Woman, Genius Of The Modern World and Empire Of The Tsars, after renewing its output deal with the organisation.