Getting a foot in the door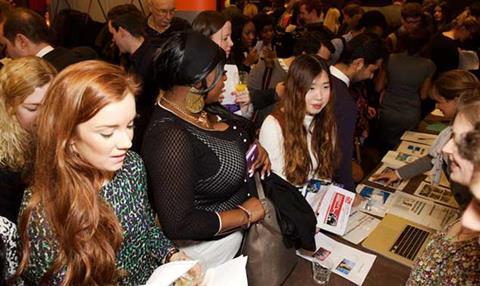 Ahead of the RTS Futures Careers Fair, Donna Taberer asks some recent entrants into the TV industry how they got their break and what advice they can offer those hoping to follow them
Breaking into the TV industry has never been easier – or harder. So many roles, so many routes in – but too many media students and a woeful lack of diversity.
What's the best advice for those knocking at the door and where can companies find and nurture diverse talent? Ahead of the RTS Futures Ultimate TV Careers Fair, Donna Taberer, chair of RTS Futures, talks to some recent new entrants about how they got their foot in the door.
LYLE ASHUN
Trainee researcher, BBC
Lyle was 25 and a freelance photographer in 2015. He was also suffering severe depression.
"I always wanted to work in TV but felt that because I had no confidence in myself I just wouldn't be able to handle the media business," he says.
"But Mama Youth taught me that if you believe in something then you should go out and give it a go. Don't quit before you've even started. The experience gave me the motivation to really give my all to my passion of coming up with ideas to make content for the TV industry."
After his 13-week training programme with Mama Youth, where he helped develop a Sky 1 magazine show called What's Up TV, Lyle joined the BBC as a trainee researcher. He was initially contracted for just four weeks but was asked to stay on for a year. Four months into his contract, he helped get the BBC3 documentary Bodyhack: Metal Gear Man commissioned. It went on to win a Lovie silver award for Best Online Short Form Documentary.
ERICA PROCOPIS
Hair and make-up artist
Erica retrained as a hair and make-up artist at the age of 30. After graduating, she was lucky enough to land work experience on Downton Abbey, where she met Emmy award-winning hair and make-up designer Nic Collins, who offered her a trainee position on ITV's Victoria.
"The process of trying to get into the industry can be quite daunting, especially if you don't know anyone on the inside," she says. "But if you continue to put yourself out there, take every opportunity that comes and work hard, people will notice you and put your name forward for other work."
She has since worked on ITV drama Harlots, films including Joan Collins comedy The Time Of Their Lives and West End shows such as Motown The Musical and The Book of Mormon.
MICHELLE RUDA
Development researcher, BBC Factual
"I was 26 years old, I had been unemployed for six months and I had never tried to get a job in TV because I knew how competitive it was and I didn't know anyone in the industry," says Michelle. "But then I searched for every opportunity I could find online and applied. I followed TV job companies on social media sites."
She struck lucky when she applied for a production trainee scheme at Shine TV. "I spent ages on the application form and then I really overprepared for the interview – I even memorised the TV guide just in case they asked me what was on at what time. I didn't get the trainee position but they said they liked me and asked if I wanted to come in as a receptionist and work my way up."
Michelle went on to work on a range of Shine output – including The Island With Bear Grylls, Hunted, Council House Crackdown and The Force: Essex. She is now working as a junior development researcher in factual entertainment at the BBC. Her advice?
"Be determined, be passionate and persevere – apply for every opportunity, send out polite letters and emails, and then once you get a foot in the door, you've got to make it count."
ALEX WOOTTEN
Programming and scheduling executive, ITV2
Alex started out as a TV runner. She had just four days on Ant And Dec's Christmas Show and by chance managed to get an interview at ITV Studios, which led to runner work on Britain's Best Dish and Take Me Out: The Gossip.
"As much as I loved the production side, I realised I liked routine and the consistency of a full-time contract," says Alex.
She joined Channel 4 as a temporary PA in scheduling and commissioning. "It was there that I learned all about the broadcasting side of the business and spotted an opportunity in the daytime and formats commissioning team, where I eventually interviewed for a programme co-ordinator role."
After two years at C4, Alex joined ITV for the launch of ITV Be and is now a programming and scheduling executive for ITV2.
MEETING DEMAND: THE HETV DRAMA CO-PRODUCERS PROGRAMME
SUE VERTUE
Producer, Sherlock (Hartswood Films)
Due to the combination of an unprecedented increase in drama being made in the UK, and a lack of opportunity to step up or sideways, the freelance drama producer pool is currently not big enough for the demand.
In truth, Hartswood Films didn't necessarily need another producer on Sherlock series four – I was the producer – but we were asked if we could get involved in a High End TV 'step up and shadowing' programme (now known as the HETV Drama Co-Producers Programme) and were keen to embrace any positive and effective idea to help futureproof the industry.
The co-producers programme is funded by the HETV levy, overseen by the HETV Council and administered by Creative Skillset. The programme offers up to £40,000 per placement and in return we give insights into our financing, casting, head of depart ment interviews and key deliver ables, allowing the producer to shadow from prep to post.
The launch of the scheme also happened to fi t in nicely with the fi lming dates for Sherlock series four.
Martyn Smith was already an established producer and series producer in factual entertainment (The Apprentice), and creator of the UK version of Dragons' Den, when he joined the Sherlock family for two episodes of the new series. While there are, of course, many similarities between producing factual entertainment and drama, there are differences too.
BUILDING TRUST
It does take a little time at the start to share everything and allow your HETV producer to bed in, but it is worth the effort. It has to be a 'warts and all' process, though, or it's simply not going to work.
You need openness and trust on both sides – I'm not going to discuss the details of our budget with someone who has only been with me for a few days, but if someone is to work with me and learn how dramas work and how much they cost, that is exactly the sort of information they need to be privy to.
On a drama of this scale and scope, I had a few days where we had two units running at the same time. Having Martyn on board as HETV associate producer and fully immersed in the show meant that after a while he could get really involved in the preparation and scheduling of these days and go over to the second unit and be my eyes – utterly invaluable to me and the production as a whole.
Generally, opportunities for work experience and shadowing tend to be for a few days only. There is nothing else on the scale of this scheme, and nothing this effective.
If we are truly committed to expanding the talent pool, this is the route we need to go down.
It might take a leap of faith to open your production up to someone new, but the short-term benefits to your drama and, most importantly, the long-term benefits for the industry, are clear.
ROUTES INTO TV: TRAINING AND APPRENTICESHIPS
RTS Careers Fair
The RTS Futures Ultimate TV Careers Fair takes place on 1 February at the Business Design Centre in London.
The exhibition features more than 20 leading TV companies, practical workshops, interview masterclasses and CV clinics. Universities and educational institutions can book spaces for their students by contacting Alice Turner at aturner@rts.org.uk.
For full details, visit rts.org.uk.