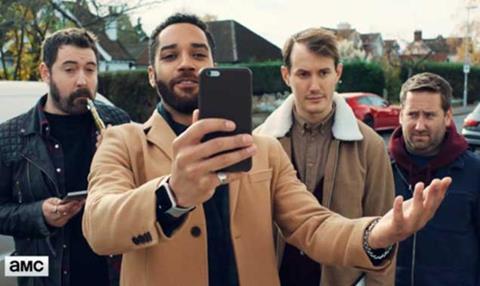 AMC readies Loaded
US cable channel AMC is to launch its latest co-production with Channel 4, Loaded, on 17 July, scheduling the comedy to follow Preacher, starring Dominic Cooper. The show, which follows four young millionaires, is the first international adaptation of Keshet's 2007 format Mesudarim, and was produced by Keshet UK and Hillbilly Television. The 8 x 45-minute series launched on C4 on 8 May, pulling in an audience of 463,000 (2.78%) to 22 May.
CBS exec shake-up
Two high-profile exits have rocked the US broadcaster CBS this week. Kelly Kahl has been named president of CBS Entertainment, following news that Glenn Geller is stepping down from the role after just two years. Kahl will assume leadership of the entertainment division, reporting to CBS chairman and chief executive Les Moonves. In a second major exit, long-time exec Bridget Wiley, executive vice-president of current programmes, is also stepping down. Meanwhile, The CW's Thomas Sherman has been named senior executive vice-president of programming.
A+E takes full ownership of German portfolio
A+E Networks has bought out NBCUniversal International's stake in its German joint venture, A+E Networks Germany. The company will take full ownership of the German portfolio, which includes channels History and A&E, following 12 years collaboration. A+E Networks Germany serves Switzerland, Austria, Luxembourg, Alto Adige and Liechtenstein, in addition to Germany. A+E Networks has recently sought to take greater ownership positions across its international ventures. A+E Networks Germany joins wholly-owned and majority-owned A+E Networks broadcasters in Southeast Asia, Italy, Japan, and, most recently, Korea, which is set to launch this fall.
WGN pulls out of scripted
US cable channel WGN America is pulling out of scripted programming after cancelling period drama Underground after two series. The Tribune Media-owned broadcaster, which is in the process of being sold to Sinclair Group, plans to focus on unscripted originations and acquisitions. WGN cancelled the Sony Pictures Television-produced Underground, which told the story of the Underground Railroad, two months after it pulled the plug on Appalachia-set drama Outsiders, also produced by SPT. The move comes months after cable channel A&E, home of Bates Motel, also revealed it was shifting away from scripted programming.
BBC First to launch in Netherlands
BBC Worldwide is to launch entertainment channel BBC First with Dutch cable provider Caiway. The fully localised channel will feature shows including The Good Karma Hospital and Maigret: Night at the Crossroads. BBC First is already available in the Netherlands on KPN, where it launched in 2015 and reaches 6.7m households. BBC First will launch on Caiway, which has 200,000 subscribers, on 15 June. The channel is also available in Australia, Belgium, Hong Kong, North Africa, Malaysia, Middle East, Singapore and South Africa.