DRG and NENT Studios UK owner to focus solely on drama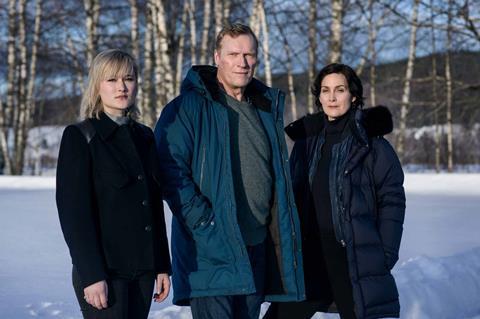 Nordic Entertainment Group (NENT) is to sell its unscripted production business to focus on drama and distribution.
NENT's British assets – NENT Studios UK and distribution arm DRG – will be unaffected by the sale of several European unscripted indies sold along with branded entertainment and events companies.
NENT said it would seek a minority investor in its remaining drama business – which will focus on drama series, movies and sales – to "contribute to the further development of the output and operations".
Scripted producers and distribution account for 45% of its total sales and "a significant proportion" of profits, according to NENT.
The firm currently operates 32 production companies in 17 countries and owns Scandinavian SVoD Viaplay, which has been an extensive commissioner of original European dramas such as BBC4 acquisition Wisting (pictured).
It expects to launch 30 originals in 2020 and is aiming at a longer-term goal of a minimum 40 per year.
Last year, NENT Studios UK chief executive Jakob Mejlhede Andersen told Broadcast that British scripted productions would form a significant part of Viaplay's originals output going forwards.
This week, Viaplay's growth was named as a factor behind the rejig, along with growth opportunities in scripted versus those in unscripted, whose work is primarily for broadcasters and streamers outside of the NENT Group.
NENT Studios' drama portfolio currently comprises Scandi firms Brain Academy Nordics, Nice Drama, Epiq and Monster Scripted; central and eastern Europe-based producer Paprika; NENT Studios UK, which includes Doc Martin distributor DRG and a joint venture with FilmNation Entertainment; US-based scripted production company Brain Academy US; and an investment in the Los Angeles-based studio Picturestart.
The companies up for sale include several high-profile Scandinavian producers such as Strix, Baluba, Monster Entertainment and Moskito.
NENT will conduct its sales process in the first half of this year, having appointed ACF as financial adviser for the sale of the unscripted firms and events business and Stella EOC on the branded entertainment divestiture.
NENT Group president and chief executive Anders Jensen said: "This reorganisation reflects how important it is for us to focus even further on the opportunity we have with scripted original content, its relevance for our Viaplay streaming service and the expansion ambitions that we have for the coming years."
He added there had been "talks with several third parties, who have expressed strong interest in investing in the exciting journey with the reorganised NENT Studios".