Broadcaster hosts live coverage of All Elite Wrestling event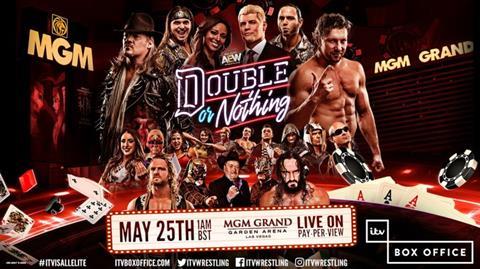 ITV is to offer pay-per-view wrestling after signing a deal with the All Elite Wrestling organisation.
The ITV box office channel will broadcast the Double or Nothing wrestling event live from the MGM Grand Garden Arena in Las Vegas at 1am on Sunday 26 May.
The event features an all-star wrestling cast including Kenny Omega, Chris Jericho and brothers Cody and Dustin Rhodes.
Immediately before the live pay-per-view event begins, ITV4 will whet fans' appetite with an hour-long live pre-show special buy-in that includes the first ever 'Casino Battle Royale', in which 21 competitors battle it out in the ring.
ITV's most recent dabble in wrestling was the 10-part World of Sport Wrestling series that aired over the summer in 2018 on the main channel. This was a relaunch of the popular wrestling segment of the World of Sport sports programme, which ran on ITV between January 1965 and September 1985.
ITV director of sport Niall Sloane said joining forces with AEW forms part of ITV's More Than TV strategy to develop direct relationships with viewers through big events available on its platforms.
"We're delighted to announce this partnership with AEW, whose entry into professional wrestling is already making a massive impact on the industry and promises to deliver an electrifying event later this month, and a fantastic experience for our viewers and wrestling fans in the UK," said Sloane.
AEW president and chief executive Tony Khan said that since launching in January, AEW has signed the best talent, sold-out debut shows and are building relationships with media partners like ITV.
"ITV is the best in the UK, they were always my first choice to be our international PPV partner for Double Or Nothing, and we're looking forward to a great show."