JVC is introducing a new flagship product within its ProHD camcorder line at NAB in Las Vegas that is capable of being either a field-based shooter of part of a multi-camera set-up.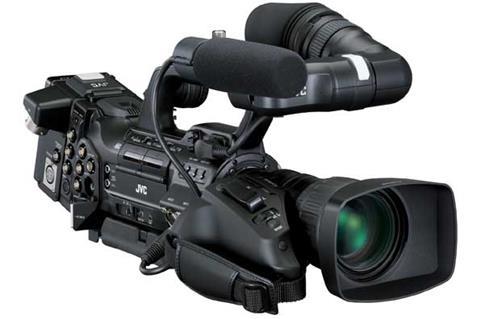 The GY-HM790E supports multi-core or fibre-based studio production or, as a shoulder-mount camcorder, provides for ENG and sports production.
It features three 1/3-inch CCDs, produces 1920x1080 images and can record in 1080i, 720p and SD.
Adopting the tapeless workflow introduced in the GY-HM700 camcorder, the GY-HM790 features a dual card slot design that records to low-cost, non-proprietary SDHC Class 6 or 10 solid-state media cards.
JVC's native file recording technology allows recording in ready-to-edit file formats for Apple Final Cut Pro (.mov) and other major NLE systems (.mp4) that are compatible with Sony XDCAM EX workflow.
"The excellent image quality of the GY-HM790, coupled with its versatility for both studio and ENG use, makes it an attractive camcorder for broadcasters in any DMA," said Craig Yanagi, manager of marketing and brand strategy, JVC Professional Products.
"The GY-HM790 does more than shoot great pictures; it literally changes the way live news reports can be produced."
An optional ASI output module provides a direct feed from the camera to a satellite uplink or microwave transmitter via BNC for live HD video from the field.
The GY-HM790 will be available this summer.