ITV's incoming director of television Kevin Lygo will have to call upon all his quick wit, charm and industry nous to tackle a number of creative challenges brewing at the broadcaster.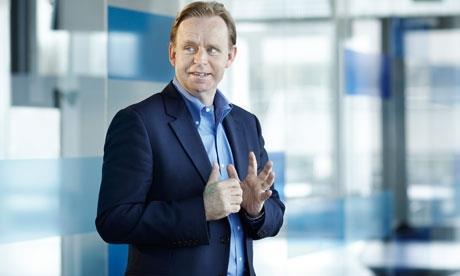 Lygo is considered a brave and bright executive by colleagues and producers, who believe that the ITV Studios managing director will make some tough decisions around key programmes and genres when he replaces Peter Fincham next month.
While Fincham's ITV tenure will be remembered as a period of huge success and stability, it is widely believed that the broadcaster must make improvements in entertainment and factual if it is to halt two successive years of ratings declines.
Lygo must soon decide whether to renew three-year deals for The X Factor and Britain's Got Talent, which expire this year. The former remains one of ITV's top-performing shows, but has registered a sharp slump in viewing figures and rumours were flying about the show's future last year after ITV poached The Voice UK from BBC1.
Entertainment challenge "Negotiations over the future of those Syco juggernauts will be near the top of his in-tray, and ultimately he will be expected to grow the next generation of entertainment hits," one ITV insider said of Lygo, who commissioned Big Brother and TFI Friday at Channel 4.
The focus on entertainment has already led to questions about how he will work with entertainment director Elaine Bedell, a key Fincham lieutenant. While no decisions have been made, the insider said Lygo will have known about the changes long enough to have a plan.
Rod Henwood, chief executive of Tipping Point producer Zodiak UK, who was on the board at Channel 4 alongside Lygo, said he is a good bridge between creatives and the business of TV. "ITV now has the challenge of creative renewal, which all big broadcasters face every so often.
They've got a lot of heavyweight shows that are over a certain age and the challenge is to find some natural successors. Given his first job in telly was writing gags for The Two Ronnies and he's been a head of entertainment, he's no stranger to Saturday nights," Henwood said.
Lygo, described as "stand-up" funny by one colleague, is also likely to turn his attention to comedy – another genre in Bedell's remit – and factual, which has struggled in the past two years. The Garden's Saved is the latest wobble, capturing an audience of just 1.3 million (5.8%) on Tuesday at 9pm.
"It is very difficult in primetime, there is nowhere to hide at 9pm with the other channels scheduling drama and entertainment," said one documentary-maker. Another added: "It's great news that Kevin is coming in. Factual has been an unmitigated disaster recently."
Drama is more stable, but Lygo will have the daunting task of replacing one of Fincham's crowning commissions: Downton Abbey.
There is speculation that Cold Feet will be deployed in Downton's autumn Sunday night slot this year, and Lygo will be well aware of the revived drama's strengths, given it is being made by ITV Studios- owned Big Talk Productions.
Many producers believe that Lygo's appointment, and Julian Bellamy's promotion at ITVS, will lead to even more internal commissioning, moving closer to the model of vertical integration. "Julian is Kevin's protégé and there will be plenty of watercooler conversations that go on between them, above and beyond the traditional commissioning meetings," said one ITV insider.
Hard act to follow
There is consensus that Lygo will have big boots to fill in taking over from Fincham, who ushered in hits such as Broadchurch, Long Lost Family and The Only Way Is Essex.
The former Talkback boss was also well liked within the indie community and commanded huge respect among his commissioning team, who decamped to the pub after his departure was announced.
"The interesting thing about these industry changes is just how quickly they've all been executed," said David Mortimer, senior vice president of factual and entertainment at NBC Universal. "Up until quite recently, changes in command used to take months to work through the system and often led to commissioning decisions grinding to a halt. Now that TV is run like any other business, where speed is of the essence, we'll hopefully end up with creative renewal rather than stultifying inaction."
Hungry Bear managing director Dan Baldwin added: "Change is a good thing for the industry – it keeps people on their toes and can also even the playing field in terms of commissioning opportunities. No matter who is at the BBC, ITV or Sky, our job is to come up with brilliant ideas. That doesn't change."