Behind the scenes at the British Basketball League cup final; Extreme E profiled; Covid-safe sports bubbles; Top Tech Trends for 2021; Big Interview: Sky Sports production chief Inga Ruehl; and more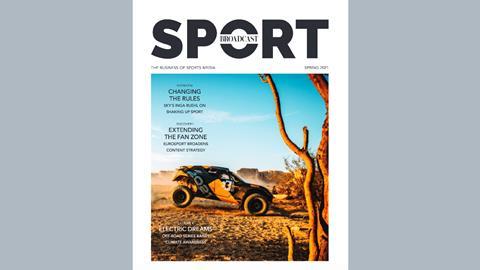 A few weeks before Broadcast Sport went to press, the UK government unveiled its roadmap for coming out of lockdown 3. It allows for the return of a wide range of sports events by the middle of May, followed by the complete lifting of legal limits on social contact by 21 June. This all sounds hopeful and is in sharp contrast to the environment in which this issue was put together.
The televising of the British Basketball League cup final in January is a case in point – played in an empty stadium with a streamlined production team finding creative ways to generate atmosphere. Broadcast Sport goes behind the scenes at the event on p6-10.
Sticking with lockdown sports production, on p18-22, we take a look at the efforts of F1, NBA, UFC and European Tour golf to ensure they were Covid-safe, while on p40-42, the BBC reveals the lessons learned broadcasting two Six Nations tournaments under Covid restrictions.
Elsewhere, we look at the road mapped out by eco-conscious motorsport Extreme E as it prepares for its global launch (p30-34).
This issue's roundtable debate (p26-29) is focused on tech innovation, with three sports producers picking their top tech trends for the year ahead.
We also talk to Sky Sports production chief Inga Ruehl (p14-16) about gender and diversity, as well as the challenges of producing sports content during lockdown. I hope you enjoy the great content here. Let's hope that by the next issue, we're living in a 'normal' world once again.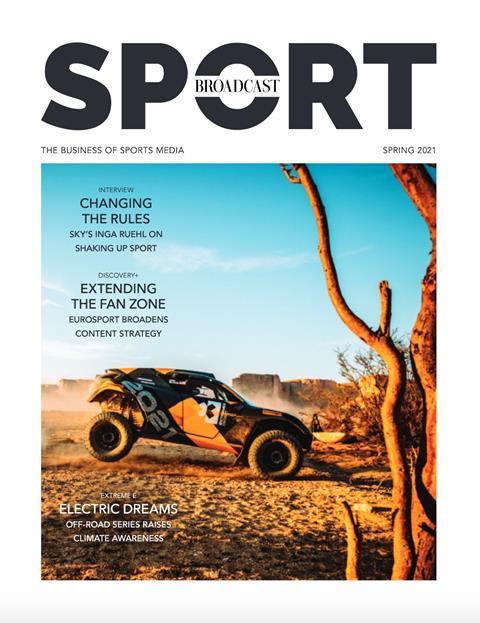 Click above to read the issue.