Martha And Snoop's Potluck Dinner Party, in which the celebrity chef teams up with the gangster rapper, is one of the stranger titles to launch at Mip TV.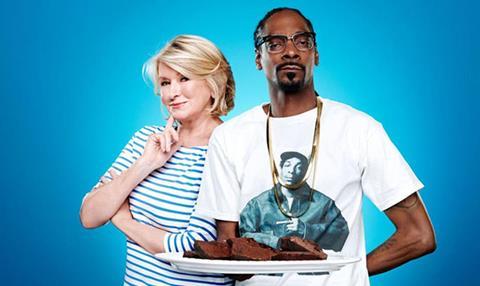 Martha And Snoop's Potluck Dinner Party
Distributor Viacom International Media Networks (VIMN)
Producer 495 Productions
Length 9 x 30 minutes
Broadcaster VH1 (US)
The show is a new breed of food competition series in which the odd couple invite their celebrity friends for a weekly half-baked evening of cocktails, cooking and conversation.
It was conceived when Chris McCarthy, a rising star at Viacom, took over US cable network VH1 and tasked SallyAnn Salsano, creator of Jersey Shore and founder of Fremantle Media-owned indie 495 Productions, with creating "something crazy" that wouldn't normally be seen on the channel.
Salsano had wanted to produce a celebrity cooking format and enquired whether Snoop Dogg and Stewart, who had been friends for nearly 10 years, were available.
The series features a range of celebrity guests, including Seth Rogen, Ice Cube and Wiz Khalifa in the first episode, as well as Kathy Griffin, 50 Cent, Ashlee Simpson and Robin Thicke across the first series.
It launched in November and was a hit for VH1, particularly among viewers aged 16-34, leading the broadcaster to quickly order a second series.
Now the company's global distribution division, Viacom International Media Networks, is looking to take the odd couple around the world.
Senior vice-president of international programme sales Caroline Beaton says it's a "feel-good show" that champions today's global fascination with food, entertaining and celebrity, and is the "ultimate dinner-party experience".
"Once our international partners realise that we're not pulling their leg, I'm in no doubt they will be as excited about Martha And Snoop's Potluck Dinner Party as we are. There's always that one show at the market that's bonkers, and this goes above and beyond on that count," she says.
Martha Stewart, who exec produces the show through her company Sequential Brands Group, formerly known as Martha Stewart Living Omnimedia, has written more than 80 lifestyle books that have sold around the world.
Dogg, who recently released his 14th studio album, Coolaid, has sold 35 million-plus albums worldwide. This, VIMN hopes, will accelerate deals with international free-to-air and pay-TV broadcasters. "You would be hard pushed to find anyone over the age of 16 who isn't aware of Martha or Snoop.
They're a powerful combination of global icons from two very different worlds – hip-hop meets home-economics," says Beaton.
The former Action Time boss is also keen to explore format deals. "Martha And Snoop's Potluck Dinner Party is the ultimate unicorn in our format portfolio; both for its brilliantly unique and eccentric concept, and the ease with which the studio-based series can be locally replicated across all markets.
"The secret to the show's success is finding two hosts who have that same natural chemistry and friendship both on and off screen, and the more bizarre and baffling the better."
While local gangster rappers and recently incarcerated celebrity chefs would be ideal, Beaton says the possibilities are endless.
"Every local version will opt for a different combination, depending on what their audiences want. I only hope they're as equally bizarre and brilliant a combination as Martha and Snoop."