Finnish producer Reflect has overhauled a traditional video game magazine format into a state-of-the- art programme featuring innovative 'mixed-reality' production techniques.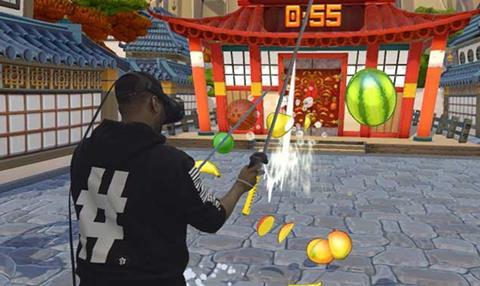 TILT
Distributor Kabo International
Producer Reflect
Length 10 x 60 minutes
Broadcaster TV6 (Finland)
The ground-breaking Tilt blends a green-screen studio with virtual reality as millennial celebrities challenge each other in a series of games.
To viewers at home, it appears as if the guests are actually in the game, giving a 'mixed-reality' experience.
Reflect co-founder Antti Seppanen says that while the show has many traditional format points, such as news and reviews, its immersive nature gives it a unique twist.
"As the TV landscape continues to evolve in line with viewer demands, VR and interactive entertainment are taking centre stage," says Seppanen.
"It isn't that complicated to do, but it is very effective. The guests appear to be actually inside the game - it becomes a virtual set for the show."
He adds that only certain VR games are suited to the format - mostly fighting, shooting and sports titles. The 10-part Finnish version of Tilt features two guests alongside a YouTube gaming star.
The show has aired on Finland's TV6 since 1997. It was previously a traditional magazine show with news, reviews and features, before being revamped last year.
"We were keen to follow the changing face of the industry and realised that VR was going to be the next big thing," says Arabelle Pouliot Di-Crescenzo, managing director of Kabo International, which is distributing the show.
"Everyone's ears prick up at the mention of VR and this kind of show is very appealing to a millennial audience."
She adds that while the format appears expensive, the production costs are not "prohibitive" and the tech required is widely available.
Reflect has a slate of innovative formats, including High Score, a futuristic eSports decathlon in which contestants battle across a range of quizzes, party games and VR experiences.