Billed as "the fastest and simplest game" on TV, The Wall gives pairs of teammates the chance to win life-changing amounts of money, with more than $12m (£10m) on the line every night.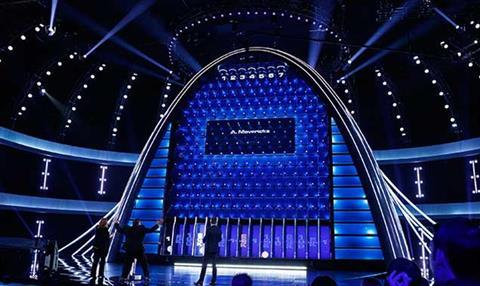 The Wall
Distributor Endemol Shine International
Producers Glassman Media; Spring Hill Entertainment; Core Media Group
Length 10 x 60 minutes
Broadcaster NBC (US)
The four storey-high wall resembles a giant pinball machine. Balls fall down the wall, gradually making their way into slots at the bottom with different values.
If a contestant correctly answers a question, a green ball will fall down and the value of the slot it falls into will be added to the player's total. If the answer is incorrect, a red ball falls and the corresponding amount is deducted from the team's total.
President of Glassman Media and executive producer of the show Andrew Glassman describes it as a "very simple game of chance, luck and destiny", adding: "It's never the same game twice. It takes you on a rollercoaster of emotions and you really need to trust your partner."
Co-executive producer and chief executive of Spring Hill Entertainment Maverick Carter says the show is about "everyday people having the chance to win life-changing amounts of money".
Glassman says the contestants and their stories are as key to the show as the wall itself. "We as an audience want to find people to root for – people who want to do something with that money, to make a change in their community. This is about good things happening to good people."
After launching in primetime on NBC, the first three episodes averaged almost 7 million viewers, in line with the channel's slot average. As a result, NBC has ordered a second series of 20 episodes.
When the local version premiered on TF1 in France, it pulled in an overnight audience of 5.4 million (27%), up 64% on its slot average.
Lisa Perrin, chief executive of Creative Networks for Endemol Shine Group, which is distributing the show, says broadcasters from around the world are looking at The Wall. Her team is exploring how to "scale down" the format to entice a wider range of broadcasters.