MONDAY: Mr T, the former star of The A-Team, boosted BBC3's usual audience figures with his new comedy clip show.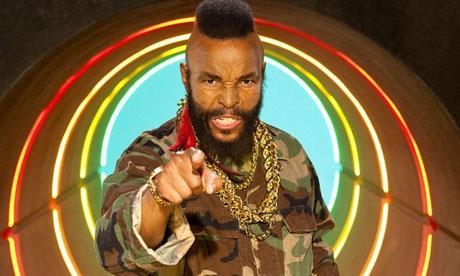 World's Craziest Fools featured half an hour of stunts and gaffes introduced by the gravel-voiced TV star in a 10.30pm slot.
The first in a 10-part series drew an average audience of 755,800 (4.69%), above the year-to-date slot average of 485,100 (2.97%), according to overnight Barb figures supplied by Attentional.
An additional 146,100 (6.46%) watched a repeat at 1.15am.
E4's mixed fortunes
The penultimate instalment of US high school musical Glee recorded its lowest audience of the series on E4.
Ahead of next week's finale, the episode drew 1.1m (4.46%) across the 9pm hour and an additional 203,500 (1.13%) on time-shifted E4+1.
The performance was out of kilter with the rest of the series, which returned for a second season in January with 1.6m has averaged 1.35m across the run.
Conversely, new E4 reality show Made In Chelsea drew its biggest audience to date.
It was seen by 467,500 (2.6%) across the 10pm hour – up from last week's low of 300,000 – and drew a further 40,800 (0.43%) on E4+1, taking the total over half a million.
ITV2 has still Got Talent
ITV2 devoted nearly an entire evening to variety show Britain's Got Talent.
It repeated Saturday's final from 4.30pm and results from 6.30pm, drawing 190,000 (1.52%) and 179,000 (1%) respectively.
The shows were seen by 11.17m (47.62%) and 12.19m (49.32%) when first shown on ITV1.
Britain's Got More Talent: the Final - a repeat of ITV2's Saturday night chat with the winner – drew 169,500 (0.86%) across the 7pm hour. When originally aired, it delivered 1.83m (9.21%), ITV2's biggest audience of the year to date.
A new compilation, highlighting top moments from throughout the series, followed across the 8pm hour and entertained 157,700 (0.69%).
Meanwhile, at 8.30pm on BBC3, Young, Rich and Househunting drew the lowest audience of the series with 326,300 (1.39%) over half an hour. It was the penultimate instalment of the six-part run, which has so far averaged 460,000 (1.9%)
Sky Atlantic
A new episode of fantasy drama Game of Thrones drew 523,300 (2.16%) from 9pm to 10.10pm – the second lowest overnights of the current run.
Funny or Die Presents, a spin-off from the US comedy website, amused 74,900 (0.4%) from 10.10pm to 10.40pm – its best ratings to date.
However, a new instalment of US drama Weeds struggled with 21,600 (0.16%) from 10.40pm to 11.20pm.