WEDNESDAY: Around seven-in-ten viewers to Mary Berry and Nadiya Hussain double-header are women, as both kick off ahead of slot average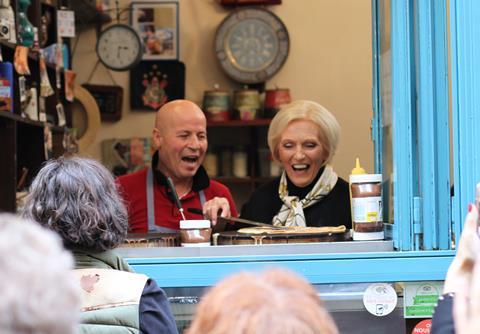 Two BBC2 cooking shows launched last night across the 8pm hour ahead of slot average, with Nadiya Bakes (Wall to Wall) following Berry's effort with 1.6m (9.4%). The pair topped their slot averages by 400,000 and 100,000 respectively.
Berry's six-parter, from regular collaborator Sidney Street, kicked off by doubling over-65 share to 13.2% (900,000), with viewers from this age demographic comprising more than half (52.3%) of the show's audience.
Around 70% of the show's audience were women, up 13pp on benchmark, which increased to 73% for Nadiya's 8.30pm-9pm offering, according to Barb data from overnights.tv
Berry's previous series launch - Mary Berry's Quick Cooking - opened in March to 1.9m (10.3%) in a Monday 8.30pm slot, while Nadiya's Time to Eat opened in July in a Monday 8pm slot to 1.5m (10%) – virtually level with last night's performance.
BBC1's Repair Shop comfortably secured the 8pm slot with 4.5m (26.9%).
Who Wants to be a Millionaire's? latest stripped offering won the 9pm slot with 3.9m (23.5%) – the best-performing show of the week so far.
It outperformed the fifth episode of the third run of BBC1's Reported Missing, which missed the series average by 200,000 to deliver 3m (17.9%).
Channel 4's 24 Hours in A&E (1.4m / 8.2%) doubled the rating for Channel 5's Police Code Zero: Officer Under Attack (660,000 / 4%).
At 10pm, Channel 4's Can We Cure Kids' Cancer? from Atomized Studios informed 370,000 (3.2%), falling behind the 560,000 (4.4%) slot average.