MONDAY: Latest Gold original is UKTV channel's third-best overnight of year so far, while ITV's Who Wants to be a Millionaire? returns with 4m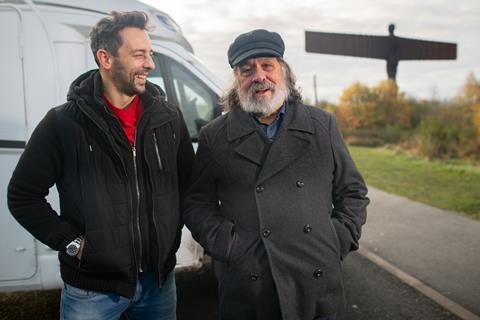 North One's six-parter opened with more-than double Gold's 100,000 (0.6%) slot average, helped along by middle-aged viewers.
Audiences from the 35-44 age bracket were particularly interested, with share quadrupling to 2% (40,000) from benchmark.
The show, in which The Royle Family co-stars Ralf Little and Ricky Tomlinson traverse the north in a campervan, launched ahead of Gold's other 2020 original, comedy Sandylands, which opened owith an overnight of 84,000 (0.6%) in a 10pm Wednesday slot in March.
It slotted in behind repeats of Mrs Brown's Boys (380,000 / 0.4%) from Tuesday 9pm in March and last month's Dad's Army (250,000 / 1.4%) from a Thursday 8pm slot.
Across the 8pm hour on the terrestrial channels, an ITV Coronavirus Q&A (2.1m / 10.6%) was level with BBC2's Great British Menu, both of which more-than doubled the rating for the latest offering of Channel 4's Grayson's Art Club.
ITV returned to its rebooted quiz format just weeks after its hit behind-the-scenes drama Quiz, with more tuning in than any episode of the previous series.
The last run opened in a Saturday 9pm slot in August 2019 with the far lower 2.5m (17.4%), ending with an improved 3.3m (17.9%) average across 10 parts.
Last night's episode of the Stellify Media-produced quiz performed around 5% above the 3.8m (20.2%) slot average, helped along by a sharp increase in 25-34 year old share, from 15.8% to 22% (300,000).
Male profile was also up towards the 50% mark (44.2% / 1.8m) against a 37.6% benchmark.
It delivered just over double the overnight audience of BBC1's ongoing weekly showing of iPlayer-box-setted BBC3 drama Normal People (1.9m / 19.9%).
Meanwhile, BBC2's much-vaunted Hospital Special: Fighting Covid-19 delivered 1.5m (7.6%) against a 1.2m (6.2%) slot average.
Label 1's previous series – its fifth - opened with the slightly lower 1.4m (7.7%), according to Barb data from overnights.tv
It was beaten comfortably by C4's Celebrity SAS: Who Dares Wins (2.3m / 11.7%) but pipped Channel 5's Police: Hour of Duty (1.2m / 6.1%).
Brinkworth Productions' latter offering remained ahead of slot average but lost 20% of its audience from the previous week's opening episode.
Derek Cianfrance's latest drama – Sky Atlantic/HBO's I Know This Much is True (FilmNation Entertainment) - gripped 30,000 (0.2%) in the channel's 9pm-10.10pm slot, on top of the 20,000 (1.7%) who tuned in for its live stream at 2am.