ITV's Sunday politics show Peston on Sunday is set to return in September after almost doubling its audience across its 10-part run.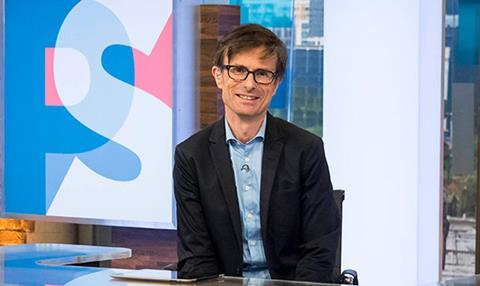 It is understood that the current affairs programme, fronted by political editor Robert Peston, will return to the same 10am-11am Sunday morning slot, again in ten parts.
The show launched on 8 May with guests including George Osborne and Louis Theroux but struggled to rate, drawing only 168,000 (2.9%).
However it went on to pull in above 300,000 viewers on four occasions – bowing out with a high of 378,000 (5.4%).
Following yesterday's episode, which featured guests including Angela Eagle and Ed Balls, Peston sent a tweet indicating that the Shiver-produced show had secured a second outing later this year.
Against my expectations I just won the @pestononsunday euros sweepstake. Bet I never see my winnings though since prog off air till Sept

— Robert Peston (@Peston) July 10, 2016
In May, Peston series editor Vicky Flind told Broadcast's Talking TV podcast that ITV had backed the show for the long haul and was not fazed by underwhelming ratings.
Flind, who was poached from BBC1's This Week to launch the show, said she hoped the programme will still be on air "in a few years' time" and emphasised the team were prepared to be "realistic and patient".
"We've got to be patient and certainly the message our ITV bosses are giving us, which is very nice, is they're going to be patient," she said.
"We're very aware that we're entering a very competitive market. We're bringing this style of political show back to ITV on a Sunday morning, so we're building from nothing."
Peston on Sunday was consistently dwarfed by its long-running BBC1 rival The Andrew Marr Show, which runs an hour earlier from 9am-10am.
While the ITV challenger informed a series average of 265,000 (4.1%), the BBC1 programme averaged 1.8m (27.7%) over the same period.