Buzz 16 has taken over production for the competition, which debuted on the weekend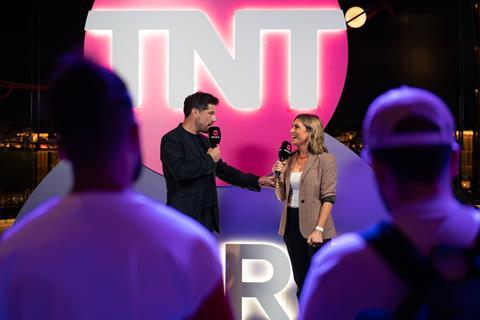 TNT Sports has overhauled production of Premiership Rugby, with Buzz 16 taking over from Sunset+Vine and a new emphasis on behind-the-scenes access.
The new season will see broadcast innovations such as changing room and in-play substitute interviews, real-time highlight clips from simultaneous live fixtures, mic'd up player warm-ups, and BatCam, WireCam and CineCam functionality. Craig Doyle will continue to present the action, with the lineup joined by Orla Chennaoui, Stuart Hogg and Chris Ashton, and, as part of TNT's focus on live for linear, it aired right after its Premier League coverage on Saturday.
Sunday's broadcast had a longer 30-minute build up, complemented by 'The Rugby Review' - a new 45-minute analysis and opinion show that will air at the conclusion of live fixtures. Punditry will be provided by Ugo Monye, Lawrence Dallaglio, Emily Scarratt, Austin Healey and Ben Kay.
Buzz 16 will be producing this after taking over from Sunset+Vine, despite having less experience in the live sphere. The company previously handled the live broadcasts of the British Basketball League on Sky Sports, but that has gone in-house from this season - which you can read more about here.
There wasn't a conventional tender process for the Premiership Rubgy contract. Instead, several companies were invited in to pitch for the work, and Broadcast Sport understands the depth of discussions differed with each one. Scott Young, VP of content and production at Warner Bros. Discovery Sports Europe told the Broadcast Sport magazine earlier this year that his time working with Buzz 16 MD Duncan East and CEO Scott Melvin while at Sky Sports gave him the confidence they could handle the production: "Under the roof of Buzz 16 there is Scott Melvin and Duncan East, who pioneered live football at Sky. When I was at Sky, Duncan East was the head of directors and you had an extraordinary amount of live content. I [also] have great faith in Scott, who's very good at working with talent and building up presenting teams, and his creative narrative is really strong.
"Duncan's expertise is looking at live coverage of the sport and how you enhance that. It's not the number of cameras that actually makes a match. It's how you use the equipment you've got. So, when we made the decision around Sunset+Vine being a backbone supplier for us, we then put rugby production out to market. We don't have an issue with using external partners – North One produce MotoGP for us. It was about how do they reimagine what we know we can do around our content? So, Buzz 16, Sunset+Vine and North One came in to pitch for our rugby production and there was a clear winner, which was born out of how they reimagined what we could do with rugby. They saw where we were currently at and they saw where they believed they could take it and it was very aligned to where TNT Sports is heading."
From his side, East told Broadcast Sport, "We were invited to pitch and give our thoughts on the future of [TNT's] rugby coverage – we came in and pitched to Andrew Georgiou, Scott Young, and Jamie Hindhaugh and we won. They liked our editorial approach and our passion for sport."
He added on where Buzz 16 hope to take the coverage: "Not being a hardcore rugby fan myself, I am the target audience – I enjoy watching rugby and our focus is on targeting people like me to come to our coverage and enjoy watching more." Speaking after Worcester Warriors, Wasps and London Irish have all dropped out of the competition due to financial issues, he noted "The sport of rugby needs to reach out to a new audience. There shouldn't be any assumed knowledge."
Before the first live matches on the weekend, this new approach began with Pride On The Pitch, a Buzz 16 produced 60-minnute documentary on the Bristol Bison's 2022/23 season. It follows one of the world's first inclusive and queer friendly rugby teams on their quest to climb the league ladder, whilst experiencing the day-to-day lives of a selection of players and club operations. The fly-on-the-wall doc aired on TNT Sports on Friday 13 October, and is now available on discovery+, with the aim to "appeal to sports fans up and down the country."